Giavotella gets another shot at full-time duty
Giavotella gets another shot at full-time duty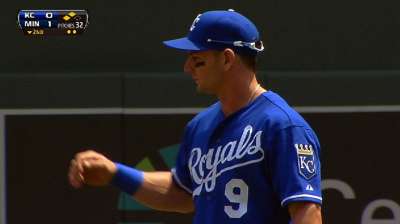 MINNEAPOLIS -- Johnny Giavotella was one of the first players in the visitors' clubhouse on Sunday morning. He was ready to go and manager Ned Yost's posted lineup had him at second base and batting ninth for the Royals against the Twins.
A third chance to make his mark -- and earn some permanency -- as Kansas City's second baseman had arrived to Giavotella. He was recalled on Saturday when right fielder Jeff Francoeur was designated for assignment.
Giavotella's average for Triple-A Omaha was up to .287 after a 10-game hitting streak in which he was 17-for-36 (.472). In two previous seasons with Omaha, he hit .338 and .323. In two previous turns with KC, however, Giavotella's averages were a modest .247 (2011) and .238 (2012).
"I was feeling good at the plate down in Omaha. Just getting back to what I do best, staying in the middle of the field, working the count and having competitive at-bats," Giavotella said.
Oddly enough, Giavotella had to get a crash course back at second base at Omaha before being recalled because, in order to improve his versatility, he's been playing at third base and left field.
"He's been moving around," Yost said. "That's why [Chris] Getz hasn't played, because like three or four days ago, they said put Johnny back at second."
Getz, optioned to Omaha last Saturday, reported last week. Also, prospect Christian Colon has been getting the most playing time at second base for the Storm Chasers.
"I haven't been playing too much the last month or so. I've been playing a lot of third base and left field, mixing in some second base every once in a while," Giavotella said. "But I think playing third base just makes second base a lot easier. It's a lot harder position to play third in my opinion. It's something I'm not used to. The ball comes a lot harder so you really have to have confidence in your hands, stay soft and relaxed and try not to panic."
When Getz was optioned, Yost intended to give Elliot Johnson the majority of time at second base with Miguel Tejada playing occasionally. However, neither one of them hit well enough.
"I needed some offense," Yost said.
Johnson, who hit well in a recent series at Tampa Bay, was stuck in a 0-for-19 slide going into Sunday's series finale at Target Field.
"If I wanted to play every day, I needed to be most consistent at the plate. That's just the way it is," Johnson said. "What am I going to do? Complain? I have nobody to blame but myself. They gave me an opportunity and the only real emotion is gratitude that I had an opportunity to do it."
Johnson, however, has been excellent on defense which, past history has shown, is not Giavotella's strong suit. So, Yost expects to use Johnson at second as a late-inning defensive replacement.
"I imagine with Elliot's defensive prowess, we'll be able to defend for Johnny," Yost said. "That keeps Elliot playing every day if we have the lead. It gives me more options off the bench."
Tejada will be used as a right-handed pinch-hitter for a left-handed-leaning lineup and occasionally spell Mike Moustakas at third base.
Dick Kaegel is a reporter for MLB.com. This story was not subject to the approval of Major League Baseball or its clubs.