Red Sox beat Jays on walk-off error in ninth
Red Sox beat Jays on walk-off error in ninth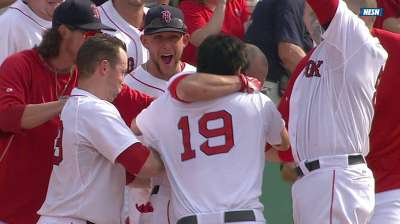 BOSTON -- The latest walk-off special at Fenway Park ended on, of all things, an error by Josh Thole, a catcher who was forced to play out of position at first base on a day Adam Lind departed with a back injury.
But there was no hollow feeling for the Red Sox following this 5-4 victory over the Blue Jays on Sunday afternoon.
If the Sox caught a break in the end, perhaps it's because they earned it -- not just on this day, but the way they've grinded throughout the first three months of the season.
Manager John Farrell's team now has an American League-leading 50 wins, seven of which have been of the walk-off variety.
"This team reminds me of some of the winning teams that I've played on, the resiliency, the playing until there are 27 outs, no matter how many runs you're down," said Shane Victorino, who hit the grounder that resulted in the game-winning run. "That's the kind of stuff that's important, and to me, what's made this team how good we are and where we are, in first place, and with 50 wins.
"It's a tough division. There's teams barreling down on us and we have the target on our back because we're in first place. But you know what? We're up for the challenge. We play every inning, every out like it's the last and we focus on that. That's what's important."
Brandon Snyder, making his first start in a Boston uniform, ignited the winning rally in the ninth when he lined a one-out single to right. It was also Snyder who made a diving stab at third to rob J.P. Arencibia of a hit in the eighth. Jacoby Ellsbury followed with a walk to push the go-ahead run into scoring position.
Blue Jays manager John Gibbons removed lefty Juan Perez and called on closer Casey Jansen to face Victorino.
Victorino spun a grounder that went off the glove of Thole and into right field, allowing pinch-runner Jonathan Diaz to score easily from second.
"Just didn't catch it. I need to catch the ball. That's the bottom line," Thole said. "It [stinks], but I've just got to catch the ball and make an out."
It was just the second day of Major League service time for Diaz, who spent seven full seasons in the Minor Leagues.
"It's an amazing feeling," said Diaz. "These guys did an incredible job today to put us in a winning position. I just got the opportunity to pinch-run for Snyder. It was definitely fun to cross the plate as the winning run. That was exciting."
A whole lot of excitement has happened for the Red Sox this season, both at Fenway and on the road.
"It's nice but, our goal isn't to win 50 games," said Ryan Dempster, who came away with a no-decision. "It's to go out there and keep building on that. We probably could have had a few more because we've given away some games and things like that.
"So at this point in the season, that's a nice place to be, absolutely, for sure, but we've got a long ways to go. We're not done and we want to keep going out there and winning series and winning ballgames."
If Victorino could have scripted it, he probably would have stung one into the gap or over the wall. But hitting one off the first baseman's glove was fine with him, even if it did cap a rare 0-for-5 performance.
"In the end, we won with that walk-off error," Victorino said. "Any way you can get a 'W' at the end of the day. I'll take an 0-for-5 with a walk-off win. That's the kind of stuff that makes your off-day a little bit easier. Big win."
To start the top of the ninth, Victorino made a tremendous catch in the corner in right to rob Jose Reyes of extra bases, giving veteran Red Sox fans flashbacks of Tom Brunanksy's division-clinching catch in that same area of right field against Ozzie Guillen and the White Sox in 1990.
"I don't know, I just see it as another catch," Victorino said. "I want to make every out that I can possibly make, whether it be making a catch like that or making just a routine play. Every out is important from a defensive standpoint. Had to go over there and catch the ball."
The catch left the Red Sox two outs away from victory, but Jose Bautista tormented them once again.
The slugger hit an absolute rocket of a home run off a sign above the Green Monster Seats, tying the game at 4-4 against closer Koji Uehara.
If not for Victorino's grab, the Sox might well have been trailing.
Since being named the closer, Uehara had been dominant, converting his first three save opportunities by retiring all nine batters he faced.
This time, Bautista jumped on a splitter for his third home run in the last two days.
"I was relieved that we got the win, but I was angry that I lost the win for [Ryan] Dempster," said Uehara.
Up until the ninth, the Sox had done a nice job clinging to leads.
That was never more evident than in the top of the sixth, when the Jays, trailing 4-2, loaded the bases with nobody out and still didn't score.
Dempster, who opened the sixth by giving up a walk and two singles, settled down by getting Arencibia on a popup to short. He was then lifted by Farrell in favor of Craig Breslow.
The lefty got the job done, getting Maicer Izturis on a popup and striking out Emilio Bonifacio.
"Oh man, it's a situation, you hate to put that on anybody to come in there, and Bres just made some big pitches there and got out of that unscathed," Dempster said. "You need those during the year and hopefully I don't put him into too many of those situations."
Reyes did take a big swing against Breslow in the seventh, lacing a solo shot that trimmed Boston's lead to 4-3.
Alex Wilson and Andrew Miller held on to that slight edge. In fact, Miller made a dazzling play to rob Colby Rasmus of a bunt to start the eighth.
Defense was a factor all afternoon for the Red Sox.
"I don't think I'm really known for my defensive prowess, but it's a big out," Miller said. "The difference between a first-pitch out in an inning and a first-pitch baserunner with nobody out is huge. It was a great bunt. That was the extent of my range right there. I'll take it. Definitely a big swing in the inning."
Dempster battled his way to a decent performance on a hot and sticky day, giving up seven hits and two runs over 5 1/3 innings.
It was a good win for the Red Sox, who were without David Ortiz and Jarrod Saltalamacchia, who both received a rest in advance of Monday's off-day. The Sox took three out of four from the last-place Jays.
"I thought the four-game series here, we played very well," Farrell said. "We had some moments from the mound that didn't quite work our way. But still, you take three of four versus anyone, particularly over the last month with the way Toronto has played. This was a good series win for us today."
Ian Browne is a reporter for MLB.com. Read his blog, Brownie Points, and follow him on Twitter @IanMBrowne. This story was not subject to the approval of Major League Baseball or its clubs.