Torres emerging as dominant bullpen weapon
Torres emerging as dominant bullpen weapon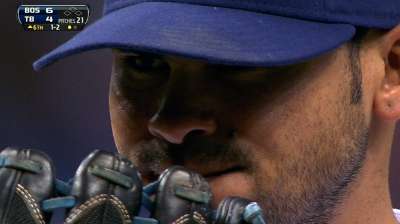 ST. PETERSBURG -- Alex Torres has evolved into a weapon out of the Rays' bullpen.
Eight of his 12 appearances this season have been longer than an inning. In those eight appearances of 1 1/3 innings or more, he has allowed no runs and just four hits with 24 strikeouts in 17 2/3 innings. Overall, he has allowed one run on six hits with 31 strikeouts and seven walks in 23 innings pitched. The left-hander's ERA is a miniscule 0.39.
Catcher Jose Molina has witnessed Torres coming into his own this season.
"He's got a confidence in his stuff," Molina said. "And now he's throwing more strikes it looks like. More aggressive in the strike zone and that helps to get your confidence up. I think it's helping a lot."
Molina noted that Torres has had his control every time he's caught him this season.
"Now he feels even more comfortable out there and he feels good. Just making pitch after pitch," Molina said. "He's not thinking about the next pitch. He's just thinking about that particular pitch each time."
Torres was starting at Triple-A Durham, but he has only pitched out of the bullpen for the Rays. For now, don't look for that to change.
"I like having him available several times a week as opposed to having him just 1 1/2 times, or whatever as a starter," manager Joe Maddon said.
"For right now you can't necessarily assume you would see the same results [if he was starting]. You think you would. But I don't think you can necessarily be absolutely positive about that. Maybe the guy's found his niche right now. Maybe this is what he's supposed to be. I don't know. But I would not want to mess with his head right now in regard to our success. He makes us a lot thicker in the bullpen."
Bill Chastain is a reporter for MLB.com. Sam Strong is an associate reporter for MLB.com. This story was not subject to the approval of Major League Baseball or its clubs.