Brett still deciding on role as hitting coach
Brett still deciding on role as hitting coach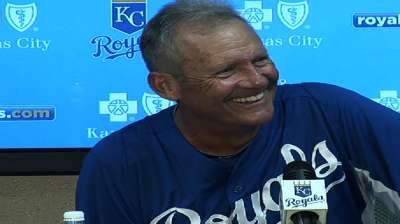 MINNEAPOLIS -- When Hall of Famer George Brett took over as the Royals' interim hitting coach, he said he'd give it a try for at least a month and then talk it over with general manager Dayton Moore.
Well, Sunday was the one-month anniversary of that day.
"Really," Brett said. "Well, I'll probably meet with Dayton when I get home."
So has Brett made a decision on continuing?
One-word answer: "No."
Is he having fun in the job?
"When we win," he said. "When you score runs and we win, it's always fun."
So, Brett's future as a hitting coach is still uncertain.
"You never know," he said.
Dick Kaegel is a reporter for MLB.com. This story was not subject to the approval of Major League Baseball or its clubs.