Brewers look for consistency from cleanup hitters
Brewers look for consistency from cleanup hitters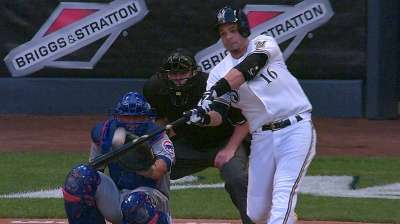 MILWAUKEE -- Juan Francisco became the seventh different player to start a game as the Brewers' cleanup hitter on Sunday, which is emblematic of manager Ron Roenicke's tough daily task of setting a starting lineup.
Last season, Roenicke used six different cleanup men all season. The year before that, he needed only one -- first baseman Prince Fielder.
"Every day with the lineup, it's something different," said Roenicke, whose club has been beset by injuries, including usual cleanup man Aramis' Ramirez's balky left knee.
As a result, the team has employed 57 different lineup combinations in its first 80 games. Brewers' cleanup men entered Sunday with a .691 OPS, which ranks 26th among 30 Major League teams.
"It would be nice to have a set lineup, where at least two days in a row we could have the same guys out there," Roenicke said. "[Setting the daily lineup] is taking me more time than I would like it to, yes."
Roenicke knows there is a segment of baseball fans who argue that, statistically, batting orders are insignificant. He disagrees.
"Where it matters, not so much the exact position guys are in, but where it matters is mentally. What does it do to guys when they change and hit in a different place in the order?" Roenicke said.
Ramirez rested Sunday after starting the last five games. He continues to be bothered by a left knee that was sprained twice earlier this season.
"I don't know, I think we're making a little bit of progress with him," Roenicke said. "So, hopefully that continues. I know he's frustrated, still not doing the things he knows he can when he's healthy, which is what we need when we have him hitting fourth."
Adam McCalvy is a reporter for MLB.com. Read his blog, Brew Beat, and follow him on Twitter at @AdamMcCalvy. This story was not subject to the approval of Major League Baseball or its clubs.