Twins' power surge isn't enough to beat KC
Twins' power surge isn't enough to beat KC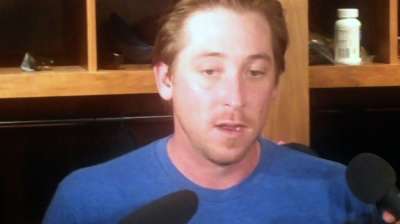 MINNEAPOLIS -- Normally, eight runs on the heels of three homers and nine hits would be enough to win a ballgame.
But for the Minnesota Twins, mental errors and playing catch up all afternoon led to a 9-8 loss to the Royals on Sunday at Target Field.
While Clete Thomas, Justin Morneau and Trevor Plouffe all homered, the Twins couldn't fully overcome the Royals' offense after starter Kevin Correia dug an early hole -- with help from errors by his defense. The right-hander allowed five runs on seven hits and three walks in five innings.
"We gave the ballgame away pretty early," manager Ron Gardenhire said. " ... We put some in the seats, but all those plays early where they're running around the bases and we're throwing to the wrong place and not being aware out there, end up costing us a ballgame. That's what got us so far behind early in the game."
Plouffe's leadoff shot in the ninth -- extending his hitting streak to 12 games -- made it a one-run game. But Royals closer Greg Holland struck out Oswaldo Arcia, Chris Parmelee and Brian Dozier in succession to end the game, as the Twins settled for a split of the four-game series.
"We barely lost that game," Correia said. "If you score eight, it comes down to pitching and defense. We didn't make any physical errors, we made a couple mental errors ... if you lose a one-run game, you look back and those are definitely going to be what frustrates you."
The Royals' No. 8 and No. 9 hitters -- David Lough and Johnny Giavotella -- worked the Twins pitchers, as Lough went 4-for-4 and Giavotella 3-for-4 with a combined five RBIs. It was a fine season debut for Giavotella, both at the plate and in the field.
"I showed a little bit of power," Lough said. "Just get a good pitch, that's what I was trying to do. Trying to be aggressive like I usually am. Most of my at-bats were early in the counts and I was able to put together a good performance."
Lough broke a 7-7 tie with solo homer in the eighth and Eric Hosmer's ninth-inning blast off Twins reliever Josh Roenicke proved to be the difference.
"We made pitches to [Lough], we thought we kind of figured it out, but he made some adjustments as the game went along," Gardenhire said. "They've got some hitters over there. Those guys can swing the bat."
Before Lough and Giavotella got going, the Twins got on the board first with a run in the second. Parmelee hit a double off the right-field wall to score Morneau, who walked to start the inning.
But the Royals responded with a two-run third. Correia allowed three straight hits to the bottom of the Royals' order. Giavotella delivered the tying RBI single. Lough scored the second run on Alex Gordon's sacrifice fly to deep center field. Lough reached earlier in the inning on a double off the right-field wall -- the first of his three doubles.
An inning later, the Royals extended their lead to 5-1. Lough came up with his second double, again off the right-field wall, scoring Billy Butler and Mike Moustakas. Giavotella followed Lough's two-run hit with his second RBI single.
"The second double he hit off me was a bad pitch," Correia said. "That was the one thing that if I could have took back that pitch, it's a whole different ballgame right there."
The Twins eventually got to Royals starter Ervin Santana and closed to within one run in the fifth on Thomas' third home run of the season -- a two-run shot to right field. Arcia's RBI single made it 5-4, as the Twins took advantage of two Royals errors.
Santana went six innings, allowing four runs (three earned) on five hits. He issued four walks and struck out five.
Minnesota tied the game with three runs on two hits in the seventh off Royals lefty reliever Tim Collins.
Trailing 7-4 to start the seventh, Morneau belted his fourth homer of the season -- No. 208 of his career -- a two-run shot to right, also scoring Ryan Doumit who singled to lead off the inning. The two-run blast moved Morneau past Kirby Puckett and into fifth place on the Twins all-time homer list.
"Anytime you get mentioned in the company of a Hall of Famer and one of the most important players in the organization, it's pretty humbling," Morneau said.
A few batters later, with two runners on, Josh Willingham pinch-hit for Eduardo Escobar. Willingham delivered a ground-rule double to left-center, scoring Arcia and tying the game. It was a bit of bad luck for the Twins when the ball bounced over the outfield fence as Parmelee was rounding the bases and had a good chance to score.
"Parmelee told me he was flying," Gardenhire said with a laugh. "If it would have stayed in the park, I would like to have seen it."
Kelly Erickson is an associate reporter for MLB.com. This story was not subject to the approval of Major League Baseball or its clubs.