Phillies stumble on way out of Los Angeles
Phillies stumble on way out of Los Angeles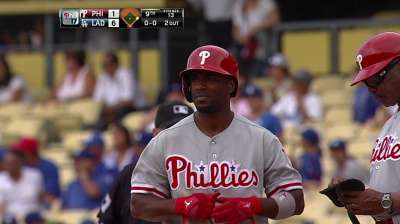 LOS ANGELES -- The Phillies looked to the past to provide them comfort Sunday afternoon at Dodger Stadium.
They lost three of four to the Dodgers, including Sunday's 6-1 setback in the series finale. It left them 3-4 on their 10-game road trip and, more importantly, 9 1/2 games behind the Braves in the National League East and a season-low five games under .500. The Phillies finish their trip this week against the Pirates, who have the best record in baseball.
A rough week in Pittsburgh could put the Phillies on the brink with the July 31 Trade Deadline looming.
"We've been there before," Phillies manager Charlie Manuel said. "I think we've always gone the other way. There are two ways you can go. You're either going down or up. We've always been able to go up, so we'll see."
The Phillies have a .610 winning percentage following the All-Star break under Manuel, which is the second-best mark in baseball. They overcame a seven-game deficit on Sept. 12, 2007, to win the National League East. They trailed the division leader by seven games on July 22, 2010, only to win the division again.
But they also have buried themselves so deep in the standings they could not catch up in 2005, '06 and '12.
"We've been in much tougher positions with much less time," Jimmy Rollins said.
Asked why he is confident his team can bounce back, Rollins said, "Faith. It's that simple. The journey at the beginning and the end of the journey, you jump on that plane and you enjoy the ride. As long as that plane is in the air, you have a chance to do something. Last I checked, we haven't made it to the All-Star break yet."
If Rollins has any concerns about his team, he hardly expressed it. In fact, he wasn't bothered the Phillies lost three of four to the Dodgers.
"Disappointed?" Rollins said. "No, I'm not disappointed at all. This series could have been 3-1 in either direction or 2-2. They played a little better. They got the job done, and that's all that matters."
So he isn't disappointed at all?
"No, I'm not disappointed," he repeated. "We had good at-bats. One pitch in the first game, [Yasiel] Puig did a good job getting to the ball and drove in runs. Yesterday we battled back, [A.J.] Ellis beat us at the plate. They came out carrying the momentum and got some things going early."
The Phillies enjoyed a 16-1 victory on Friday, but the offense regressed on Saturday and Sunday. It was 0-for-10 with runners in scoring position in Saturday's 4-3 loss. It managed just six hits and was 1-for-6 with runners in scoring position Sunday.
Phillies right-hander Kyle Kendrick allowed four runs on 10 hits and one walk, and he struck out two in six innings. He pitched the sixth after he sustained a mild concussion when Dodgers pitcher Stephen Fife hit him in the head with a pitch in the top of the inning.
The Dodgers scored three runs in the third inning to take a 3-0 lead, but it could have been less than that.
Puig reached on an infield single then stole second, except instant replay showed he came off the bag and Rollins applied the tag. Second-base umpire Dale Scott ruled Puig safe despite Rollins' protests.
"He said he didn't see it," Rollins said.
Hanley Ramirez then singled to left field to score Puig.
The inning continued from there. Ramirez stole second with Rollins again indicating he tagged Ramirez as he slid off the bag. Matt Kemp singled to left to score Ramirez to make it 2-0. A balk advanced Kemp to second and Ellis' infield single moved him to third. Kemp scored on a single to right from Jerry Hairston Jr. to make it 3-0.
Rollins' RBI single in the ninth prevented the Phillies from sustaining their eighth shutout of the season.
In the past, the Phillies had the talent to bounce back from struggles like this. Early in Manuel's tenure they had a powerful offense. In the latter years they had a strong pitching staff. Manuel acknowledged this feels different.
"It feels different in some ways because of the way we set up, the way our team is set up, our pitching and things like that," he said. "Yeah, if we keep getting farther behind, sooner or later you look up and we might be too far to catch up. At the same time I've seen this before. I remember my first or second year we were down like that. And we made that up in about two weeks. All you have to do is play some people in your division and get hot. You ain't never out of it."
Todd Zolecki is a reporter for MLB.com. This story was not subject to the approval of Major League Baseball or its clubs.