Trio of homers trips up Cahill, D-backs in finale
Trio of homers trips up Cahill, D-backs in finale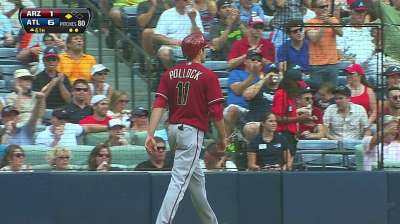 ATLANTA -- The good news for Trevor Cahill is the month of June is over.
The bad news is it ended with another loss, this one by a 6-2 margin to the Braves on Sunday afternoon at Turner Field.
With the loss, the D-backs suffered a sweep in the weekend series and they fell to 1-5 on their current road trip, which still has four games remaining.
"They outpitched us, they outhit us, they just outplayed us," D-backs manager Kirk Gibson said. "They've been struggling, but they turned it around and played well at home. You've got to give them credit, we didn't play well and they got us."
Cahill finished June with an 0-5 record and a 9.85 ERA in six starts.
"Just at this point, it's just getting kind of old," Cahill said. "I feel pretty good going into the start and then I can't make pitches, I'm giving up runs and making the bullpen wear it every time. It's kind of embarrassing."
While the D-backs maintained a slim lead in the National League West, they certainly need Cahill to be more of the pitcher he was in April and May when he compiled a 2.88 ERA than his current incarnation if they hope to maintain the lead.
"We've got to try and get him straightened around," Gibson said. "I know he's frustrated, I know he's trying and he's on a bad streak right now, not throwing the ball real well with the stuff that he has. He threw the ball in the bullpen session really good. The curiosity is, why there and you don't take it out and dominate? So it's something we'll talk about. I thought his last bullpen session was exceptional, but he was unable to take it out on the field today."
Coming into this start Cahill figured the key for him would be to not focus so much on his mechanics and arm angle and instead just keep it simple and do less thinking out there.
"I was trying to do what I've been doing and throw that sinker down and away," Cahill said. "I kept pulling it and then I tried to make an adjustment and it would be down the middle again."
The D-backs gave him a 1-0 lead to work with in the first inning and Cahill retired the Braves in order in the bottom half of the frame.
In the second, Brian McCann got the Atlanta scoring started with a one-out solo homer to left.
The Braves would break things open in the third thanks to the speed of Justin Upton.
With runners on first and second and one out, Upton hit a grounder to short that could have been a double play, but Jason Heyward slid hard into second and Upton beat the throw to first by a step.
That prolonged the inning and Freddie Freeman made the most of it when he followed with a three-run homer to center to give Atlanta a 4-1 lead.
In the fifth, it was Dan Uggla's turn as he hit a two-run homer to left that scored McCann, who had reached on a walk.
That spelled the end of the day for Cahill.
"That pitch to McCann wasn't a bad pitch," catcher Wil Nieves said. "It was down and away, sinking, and he put a good swing on it. I think the wind helped out a little bit. The pitch to Freeman was down, but it was down the middle. He's such a good hitter that he stayed with it and hit it to center field. The pitch to Uggla was up. The sinker, I don't think, was sinking that much. We tried to use his changeup and his breaking ball more, but we kept falling behind."
Braves starter Paul Maholm held the D-backs to just two runs on eight hits over 6 2/3 innings.
"That's a good club," Braves manager Fredi Gonzalez said. "They're a little banged up. It's nice to play well when you're playing a first place team from another division."
The D-backs now head to New York for a four-game series against the Mets.
"Obviously, you want to play well every day, but you just got to try and let the game go in the past whether you win or lose and just move on," first baseman Paul Goldschmidt said. "Getting frustrated is not going to help. Everyone is playing hard. We've been in a lot of games and haven't been able to pull it out. It's just part of it."
Steve Gilbert is a reporter for MLB.com. Read his blog, Inside the D-backs, and follow him on Twitter @SteveGilbertMLB. This story was not subject to the approval of Major League Baseball or its clubs.