Braves crush three homers on way to sweep
Braves crush three homers on way to sweep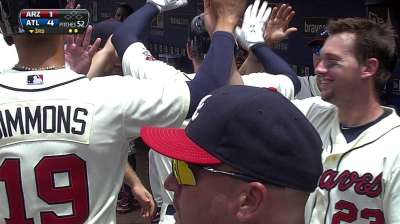 ATLANTA -- As the Braves look at all that went right in June, they can take solace in the fact that B.J. Upton and Dan Uggla consistently provided signs of encouragement. But this past month's most significant development came as Jason Heyward provided the reminder that he stands as a legitimate difference maker in Atlanta's power-packed lineup.
Heyward did not hit one of the three home runs that backed Paul Maholm's strong start and allowed the Braves to complete a three-game sweep with Sunday afternoon's 6-2 win over the D-backs. But the surging outfielder notched his 14th multi-hit game of the month and completed an aggressive slide that allowed Freddie Freeman to deliver the decisive blow.
Heyward's hard slide into second base combined with Justin Upton's hustle prevented the D-backs from turning what would have been an inning-ending double play in the third inning. Freeman then drilled Trevor Cahill's next pitch over the center-field wall for a three-run home run that gave the Braves a lead they would not squander.
"That's exactly why you do it, especially me," Heyward said of the slide. "I know what part of the lineup I'm in and who is hitting behind me. You know that can happen. In our lineup, that can happen at any point in time."
Freeman, Uggla and Brian McCann all took Trevor Cahill deep to mark the 16th time this season the Braves have hit at least three home runs in a game. Atlanta is 44-9 when it hits at least one home run and 4-25 when it is held homerless.
While the Braves have totaled 102 home runs faster than they have in any season since 2003, they have also hit .227 with runners in scoring position and struck out more than any other National League team. But this free-swinging bunch also leads the NL in walks drawn and their pitching staff entered Sunday with the second-best ERA in the Majors.
As a result, the Braves have overcome their shortcomings and gained a 6 1/2-game lead in the NL East standings.
"There's not a perfect team out there," Braves manager Fredi Gonzalez said. "But we're in first place and we're pitching well. We feel like we still haven't swung the bats like we're capable. So you feel good. It's a good place to be."
The Braves are feeling much better about their lineup than they did when they entered June with Heyward, Upton and Uggla all hitting below .200. Heyward raised his batting average from .146 to .231 while hitting .312 with a team-leading .865 OPS this past month. Uggla, who has produced better at-bats since he started wearing contacts last week, hit .250 in June to raise his batting average from .182 to .205. While Upton is still hitting below the Mendoza Line, he produced a .359 on-base percentage this past month and saw his batting average rise from .145 to .177.
"It's going to be tough to raise [the season batting averages]," Gonzalez said. "But I think you can look at individual months and 10-day periods and you'll see good batting averages and good base on balls total and, in the big picture, I think that is going to be good."
Atlanta's latest power barrage was certainly welcomed by Maholm, who scattered eight hits and allowed two runs in 6 2/3 innings. The veteran left-hander induced three double play groundouts and breathed a sigh of relief when Anthony Varvaro got A.J. Pollock to fly out with the bases loaded to end the seventh inning.
Things did not begin auspiciously for Maholm as he surrendered singles to the first two batters he faced. But he quickly righted himself by getting Paul Goldschmidt to produce a double-play groundout that scored Pollock and, more importantly, ended Arizona's first-inning threat.
"I'm not a strikeout guy," Maholm said. "So even in the first inning, my goal was to get a groundball double play and give up one. I'd rather give up one and manage the inning rather than trying to strike people out and then end up giving up four and putting us in a hole."
McCann's opposite-field one-out home run in the second inning erased Atlanta's early deficit and set the tone for the rest of the afternoon.
Freeman has proven to be one of the few players the Braves can rely on to deliver in run-producing situations and he did not disappoint with his two-out, three-run home run. The 23-year-old first baseman homered in both of the final two games of this series and will enter July hitting .413 with runners in scoring position.
"He's still starting to scratch the level of his talent," Uggla said. "He's just starting to figure that out and he's starting to realize just how good he is. It's a fun thing to watch."
Cahill pitched around potential trouble in the fourth inning and then walked McCann before Uggla followed with a two-run home run that barely snuck over the left-center-field wall. With 14 home runs, Uggla is just one off team-high total owned by Justin Upton, who has gone deep just three times since the end of April.
When the Braves exited Kansas City on Wednesday, they had suffered their 23rd loss in their most recent 36 road games. But with this sweep of the NL West leaders, they have now won 20 of their past 26 home games.
"They outpitched us, they outhit us, they just outplayed us," D-backs manager Kirk Gibson said. "They've been struggling, but they turned it around and played well at home."
Mark Bowman is a reporter for MLB.com. This story was not subject to the approval of Major League Baseball or its clubs.