Dramatic ninth inning leaves Phillies flustered
Dramatic ninth inning leaves Phillies flustered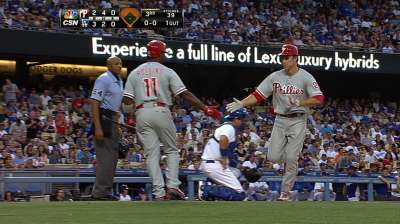 LOS ANGELES -- This is the frustrating part about the Phillies.
They spoke optimistically following Friday's 16-run performance at Dodger Stadium, hoping they could get on a nice roll offensively following months of inconsistency. But the offense sputtered in familiar fashion in Saturday night's 4-3 loss to the Dodgers.
"We had some hits," Phillies manager Charlie Manuel said. "We couldn't follow up on them."
Friday's 16-1 victory was the first time the Phillies had scored 10 or more runs in a game since a 16-1 victory over the Mets on Sept. 20, 2012. They picked up 21 hits on Friday, also the most since that lopsided victory at Citi Field. But while the Phillies picked up 11 hits Saturday -- five more than the Dodgers -- they were 0-for-10 with runners in scoring position and stranded 11 runners on base.
Remove Friday's blowout victory and the Phillies have outhit the Dodgers 25-13 in their two losses of the series.
"We couldn't get the big hit," Manuel said.
The Phillies managed to tie the game in the ninth, thanks to errors from Dodgers right fielder Yasiel Puig and center fielder Matt Kemp, but right-hander Justin De Fratus allowed a run to score in the bottom of the ninth to lose it.
De Fratus has made three appearances this week. He has taken the loss each time: Monday in San Diego, Thursday against the Dodgers and again Saturday.
"This entire week for me personally has been a rough one," De Fratus said. "We've had plenty of opportunities to win games. I've almost single-handedly blown it."
The reality is there has been plenty of blame to go around. Phillies left-hander Cliff Lee threw a regrettable first-pitch changeup to Hanley Ramirez in the first inning, and Ramirez crushed the pitch 439 feet for a three-run homer to hand the Dodgers a 3-1 lead.
Lee allowed four hits, three runs, three walks and struck out 10 in seven innings, but the Phillies could not overcome Ramirez's blast.
"It wasn't a good pitch," Lee said.
But it came back to this: the offense struggled, other than a pair of solo home runs from Chase Utley. They had a runner on second with one out in the second, runners on first and second with one out in the fourth, runners on first and second with two outs in the sixth and the bases loaded with one out in the eighth, but did not score in any of those innings.
The eighth inning was the killer. Delmon Young hit a one-out single and pinch-hitter Laynce Nix doubled to left-center field to start the inning. Young had to stop at third as he hesitated at second to make sure the ball fell between left fielder Scott Van Slyke and Kemp.
The Dodgers intentionally walked Ben Revere to load the bases and got Carlos Ruiz to hit into a fielder's choice to leave the bases loaded but with two outs.
Manuel sent Ryan Howard to the plate to pinch-hit for Lee, but Dodgers manager Don Mattingly predictably replaced right-hander Paco Rodriguez with left-hander J.P. Howell. Manuel then predictably replaced Howard with Kevin Frandsen.
Why replace Howard with Frandsen?
Simple math, really. Howard's .599 OPS against left-handers from 2011-13 is 218th out of 229 players in baseball with at least 250 plate appearances. Plus, Manuel benched Howard two games to clear his mind after struggling recently. Meanwhile, Frandsen was hitting .308 (8-for-26) with one double, two home runs and 1.014 OPS against left-handers this season.
Frandsen grounded out to Ramirez to end the threat.
"That was a tough decision for me to make," Manuel said. "But I told him yesterday I was going to sit him a couple days on lefties. I didn't feel like it was right of me to have him hit against a lefty because I told him I wanted him to take a break."
Michael Young dropped a flare down the right-field line to start the ninth. Puig, who kicked a ball into the stands on a misplay in the sixth, missed the ball again. It scooted past him, which allowed Young to reach second base.
Young advanced to third on a fielder's choice from Utley. Jimmy Rollins then hit a fly ball to shallow center field. Kemp has a great arm, so as soon as he threw the ball to the plate, Young held at third. Except Kemp's ball was off line. Young would have scored, but he scored anyway. Kemp's throw bounced off Dodgers catcher A.J. Ellis and toward the Phillies dugout, which gave Young plenty of time to reach the plate. Domonic Brown followed with a triple to left-center field, but Delmon Young struck out swinging to end the inning.
The Phillies need to beat the Dodgers on Sunday to split the four-game series.
"We had opportunities," Lee said.
They often do.
Todd Zolecki is a reporter for MLB.com. This story was not subject to the approval of Major League Baseball or its clubs.