Tigers edged in extras after Verlander's quality outing
Tigers edged in extras after Verlander's quality outing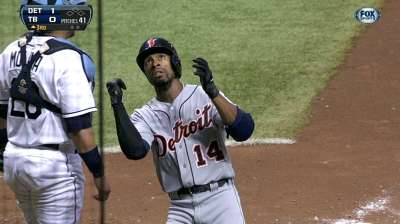 ST. PETERSBURG -- The Tigers staked Justin Verlander to a three-run lead Saturday night but the right-hander, winless since June 7, couldn't hold it as Tampa Bay prevailed, 4-3, in 10 innings on Yunel Escobar's walk-off RBI single against rookie reliever Bruce Rondon before 23,809 at Tropicana Field.
Verlander worked a season-high eight innings, allowing three runs on nine hits. He walked four and struck out four. It marked the first time in his last three starts that he has pitched more than five innings.
Verlander and manager Jim Leyland were both pleased with the right-hander's performance.
"I thought Verlander was really locked in from about the fifth inning on," Leyland said. "He was absolutely terrific. I thought that was the best that he's thrown in a long time. As the game went on, his stuff got much, much better."
According to Verlander, while working with pitching coach Jeff Jones in the bullpen since his last start, they discovered a problem with the angle of his shoulder.
"My shoulder angle was very tilted," Verlander explained. "It was nothing major. It just kind of went unnoticed by us. And it just kind of made sense. It was just a matter of getting comfortable with it."
Leyland, however, was not at all pleased about a head-high inside 1-2 pitch in the 10th inning from former Tiger Fernando Rodney that brushed Miguel Cabrera back away from the plate.
"I don't care about a guy throwing inside, that's part of the art of pitching," Leyland said. "But not upstairs in the head area. That's unacceptable. We will not tolerate that. Against anybody. Not upstairs. And you can take that to the bank.
"And I don't want to hear that stuff about 'the ball got away.' [Rodney] has pitched long enough that they don't 'get away.'
"I'm not saying he was throwing at him. What he did tonight, up in that area, that's just not acceptable. And there's a price to pay for that.
"If you're going to pitch inside, you've got to be careful that it's not in the head area. There's no free lunch in baseball. When somebody starts doing that stuff, somebody pays a price for it."
Cabrera did not comment on the incident after the game.
Austin Jackson, who has been red-hot since he returned from the disabled list on June 14, batting .367, with 14 runs scored, two home runs and seven RBIs, led off the third with his fourth homer of the season.
One out later, Cabrera singled, extending his hitting streak to 14 games. Victor Martinez kept the rally alive with a base hit, and Jhonny Peralta brought them both home with a single, putting the Tigers and Verlander on top, 3-0.
Tampa's Desmond Jennings tripled and scored on Ben Zobrist's infield grounder in the bottom half of that inning. A throwing error by Prince Fielder, a single by Zobrist and a base hit to right by James Loney in the fifth made it 3-2.
Tampa nearly tied it up in the seventh when Matt Joyce walked and Zobrist singled for the third time. But, with one away, the Tigers' just barely turned a clutch double play on Loney's ground ball to second, prompting Verlander to pump his fist in the air.
Luke Scott tied the score at three in the eighth with his fifth home run of the year on a Verlander changeup.
Brayan Pena doubled with one out in the top of the ninth, but Rodney retired Jackson and Avisail Garcia to get out of the jam.
Rondon, making his first appearance since his return to the big leagues on Friday, gave up three singles, including the game winner, in the 10th.
"I thought he threw the ball well," Leyland said. "He'll be able to help us."
The walk-off loss was the Tigers' seventh of the season, most in the American League. They suffered only six all last season. It also was the Tigers' 10th loss this year when leading after seven innings.
Jim Hawkins is a contributor to MLB.com. This story was not subject to the approval of Major League Baseball or its clubs.