Escobar's walk-off single caps Rays' comeback rally
Escobar's walk-off single caps Rays' comeback rally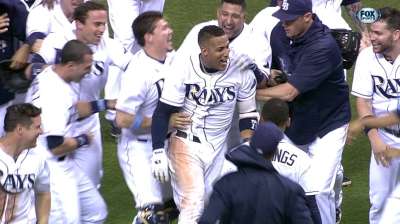 ST. PETERSBURG -- Not a bad way to reach the midway point of the season.
Tampa Bay came from behind against Detroit ace Justin Verlander to send Saturday night's game into extra innings, when Yunel Escobar's two-out RBI single gave them a 4-3 win in the bottom of the 10th.
By winning, Tampa Bay snapped a two-game losing streak while improving to 42-39 after 81 games played with 81 more to go.
"[The win was] just indicative of what we're capable of doing, playing against the best teams well," Rays manager Joe Maddon said. "There was a great vibe in the dugout tonight. Our guys came out ready to play. It was a great comeback."
Verlander appeared to have the game under control when he took the mound to start the eighth. The Tigers ace had just escaped a seventh-inning jam via a 4-6-3 inning-ending double play -- the third the Rays hit into, when Wil Myers grounded out to start the inning. Then Luke Scott turned on a 1-0 pitch, blasting his fifth home run of the season to tie the score.
"It was a changeup, just stayed a little flat," Verlander said. "I feel like my changeup got a little up and flat, but as the game went along, it got a little bit better so I was comfortable throwing it there. It just didn't do what I needed it to do. Got a little bit too much plate and didn't have much depth to it. He put a good swing on it."
Scott's home run was his seventh career game-tying or go-ahead home run in the eighth inning or later, and his first as a Ray.
"[The home run was] definitely gratifying coming off one of the best in the game," Scott said. "It was big for our team, helped us out to tie the game and we were able to win it in extra innings."
The game moved into the bottom of the 10th when James Loney hit a one-out single up the middle. Myers laced another single over second base. After reliever Bruce Rondon struck out Scott, a wild pitch allowed both Rays to move to scoring position with Escobar stepping to the plate.
Rondon fell behind 2-0 when he unleashed a 100-mph fastball that Escobar roped on a line over center fielder Austin Jackson. Pinch-runner Sam Fuld crossed the plate on Escobar's single for the win.
"I looked up after I hit the ball and saw that [Jackson] was in," said Escobar with Rays bench coach Davey Martinez translating. "I thought at first he was going to catch it. When I saw it go over his head I was happy."
Escobar's teammates mobbed him at first base to properly salute the fifth walk-off hit of his career and his first as a Ray.
"I'm very happy I was able to help the team win today," Escobar said. "I've been swinging the bat well and seeing the ball well lately. All I want to do is help us win. … A lot of times you try to do things right and they don't work out for you. Now I'm starting to get my hits and help us win. Basically, that's all I want to do."
Rays starter Chris Archer recorded a no-decision in his sixth start of the season, allowing five hits and three earned runs in five innings of work.
Alex Torres followed Archer with two scoreless frames and Joel Peralta pitched a scoreless eighth before Fernando Rodney entered the game in the ninth. Uncharacteristically, the Rays closer pitched two innings to record his third win of the season.
"That was prime Fernando from last year," Maddon said. "He was strike throwing, great fastball, absolutely fantastic changeup -- you could just see him. He was very focused. … I asked him about the second inning and he said no problem. … Tonight was a night to really go for it, I thought."
Rodney's two-inning stint was a season high and equaled his longest outing as a Ray.
"I feel good today," Rodney said. "[Maddon] asked if I can come back for one more [inning] and I said yes. The guy is the boss. Everything he says, I do."
The Rays won their 500th game since becoming the Rays in 2008, moving to within six games of the American League East-leading Red Sox, who lost Saturday night.
"These are the games we've been talking about that we have to start winning," Maddon said. "And we won it tonight against a really good team. The reason why we're in somewhat of a hole, a little kind of bunker right now, is because we have not been winning those games. We've been there, we're used to winning them, we know that we can and hopefully this can get us over the hump mentally."
Bill Chastain is a reporter for MLB.com. This story was not subject to the approval of Major League Baseball or its clubs.