Brown making case for NL All-Star roster
Brown making case for NL All-Star roster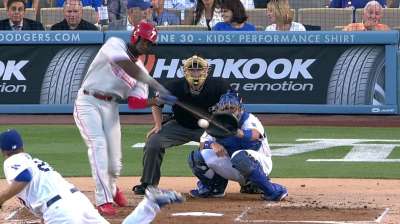 LOS ANGELES -- Major League Baseball announces its American League and National League All-Star starters next Saturday, and the Phillies have a few candidates.
Domonic Brown is the only position player with a chance to make the roster. He entered Saturday's game against the Dodgers hitting .276 with 21 home runs, 55 RBIs and a .552 slugging percentage. Left-hander Cliff Lee entered the night 9-2 with a 2.51 ERA. Closer Jonathan Papelbon seemed to be a lock but recently blew four saves in an eight-day stretch. He is 2-0 with a 2.07 ERA and 15 saves.
"He's definitely worthy of it," Phillies manager Charlie Manuel said of Brown. "The numbers definitely prove that."
Though originally scheduled for July 7, the 2013 rosters will now be unveiled Saturday, July 6, at 6:30 p.m. ET on the 2013 MLB All-Star Game Selection Show presented by Taco Bell. The show will be televised nationally on FOX.
From July 6-11, be sure to return to MLB.com and cast your 2013 All-Star Game Final Vote, sponsored by freecreditscore.com, for the final player on each All-Star roster.
Todd Zolecki is a reporter for MLB.com. This story was not subject to the approval of Major League Baseball or its clubs.