Hamels' start pushed back two days for 'mental' break
Hamels' start pushed back two days for 'mental' break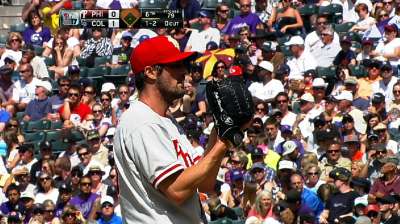 LOS ANGELES -- The Phillies believe Cole Hamels needs a mental and physical break, so they have pushed his next start to Thursday in Pittsburgh.
He had been scheduled to pitch Tuesday, but Phillies manager Charlie Manuel said they hope two extra days of rest can help.
"It's like how I rested [Ryan] Howard," said Manuel, who benched Howard on Friday and Saturday at Dodger Stadium. "See if that won't help him some. See if we can't get him back to feeling good about himself. He benefits just by clearing his head a little bit and resting. We'll give him a blow, mentally and physically. Mental has a lot to do with it."
Hamels sounded very surprised to hear one of the reasons Manuel cited was a mental break.
"I don't know what he's talking about -- mental. That's Charlie," Hamels said with a chuckle. "I think it's just because I've been going every five days and traveling a lot. Sometimes you get the stressful innings and the physical toll just kind of adds up. I think they just want to make things a little more free and easy."
Hamels is 2-11 with a 4.58 ERA. He is the first Phillies pitcher to lose 11 games before July 1 since Claude Passeau and Wayne LaMaster in 1937. But Hamels said a mental break doesn't make sense because he is not an everyday player and already gets a four-day break between starts.
"I could understand if I played every day," Hamels said. "Physically, it just allows me to get an extra bullpen [session] in."
Both Hamels and Manuel said the pitcher is healthy.
"Totally healthy," Manuel said. "There is definitely nothing wrong with him. He's fine. As a matter of fact, he's very fine."
Todd Zolecki is a reporter for MLB.com. This story was not subject to the approval of Major League Baseball or its clubs.