Tigers' bullpen straightening out into form
Tigers' bullpen straightening out into form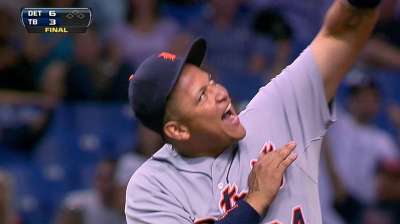 ST. PETERSBURG -- Jim Leyland believes he may finally have the Tigers' bullpen straightened out.
"We're probably two more good starts away from getting the bullpen in sync for the first time all year," the Tigers' manager said Saturday. "And I'm thrilled about that.
"It's been messed up all year long. No excuses. No sympathies. But we've been searching all year, trying to get some synchronized stuff down there. We've been lopsided one way or the other. Either our starters have been going so long there hasn't been enough work for the bullpen, or they weren't going very long at all. We needed to get some sense of order.
"Now we're an eyelash away from having the bullpen lined up the way we like it. We've got a chance, we've got a shot, to get it straightened out. And that would be music to my ears."
The way Leyland has the bullpen set up, Joaquin Benoit will be the closer, Al Alburquerque will replace Benoit as the setup man, and Bruce Rondon and Drew Smyly will handle the seventh inning. Phil Coke will be the situational left-hander and Luke Putkonen and Darin Downs will work in long relief.
"How good can our bullpen be? I can't answer that. But I think it'll be the best it can be with the guys we've got," Leyland said.
"But if our starters aren't any good, it wouldn't matter who is in the bullpen," he added.
Jim Hawkins is a contributor to MLB.com. This story was not subject to the approval of Major League Baseball or its clubs.