Leyland: Coke still big part of Tigers' bullpen
Leyland: Coke still big part of Tigers' bullpen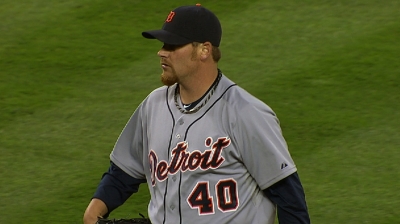 ST. PETERSBURG -- Phil Coke has lost five games so far this season entering Saturday's game, more than the other six relievers in the Tigers' bullpen combined. His ERA is 6.56, the second highest of all the pitchers currently on the staff.
But Jim Leyland said Saturday he still considers Coke "a big part of our ballclub."
"He's been real spotty," Leyland said when asked about the struggles of the high-energy 30-year-old left-hander. "He's shown signs of brilliance, and other times he's not been real good. He's fighting himself right now. He has terrific stuff. We like him very, very much. There's no reason he hasn't done better.
"He's got terrific equipment. We have to figure out how to get the best out of that equipment. He comes in like a bull in a china shop and sometimes he pitches like one. We've got to get him to channel that enthusiasm and be a little more of a pitcher."
For now, Coke will probably be used as a situational lefty to get the Tigers out of an inning.
Jim Hawkins is a contributor to MLB.com. This story was not subject to the approval of Major League Baseball or its clubs.