Parker posts first save; Gregg mentioned in trade rumors
Parker posts first save; Gregg mentioned in trade rumors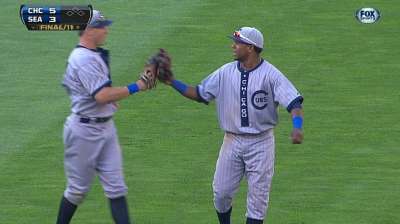 SEATTLE -- Kevin Gregg was released on April 3 by the Dodgers, and signed with the Cubs 12 days later. He's become a valuable part of the bullpen, completing 12 of 13 save opportunities, with his first blown save on Saturday.
Gregg's success also has resulted in his name being mentioned in rumors leading up to the Trade Deadline.
"It'd be tough to replace," Cubs manager Dale Sveum said of Gregg. "He's done a great job. I guess maybe you could look at [Blake] Parker because he's done it in Triple-A if those things come to light. You've got to use somebody. It'll be a wait and see situation."
Gregg is actually the third closer the Cubs have used this season. They began with Carlos Marmol, who lost the job after the first week. Kyuji Fujikawa took over until he was sidelined with elbow problems that resulted in Tommy John surgery.
Parker posted a 2.04 ERA and saved seven of 10 opportunities at Triple-A Iowa before joining the Cubs. He's been getting more work late in games, and on Saturday picked up his first Major League save in the Cubs' 5-3, 11-inning win over the Mariners.
"I'm not making an effort of it, he's just kind of earned it," Sveum said of Parker. "The way our bullpen sets up, he's done a good job. He wasn't at that many pitches [Friday] night. He's done it in Triple-A and his velocity is back. He's developed a split-finger fastball that's helped him at this level. He's deserved to be one of those guys later in innings when we're winning ballgames."
Parker has leaned on Gregg for advice, learning how to deal with being ready every day.
"He did an outstanding job [Friday], and today, he came in after the long outing, and to throw strikes and have quality pitches, it was a very good performance out of him," Gregg said of Parker's 1-2-3 11th.
"I talk to him all the time," Parker said of Gregg. "He's a great mentor. I think we have real similar pitching styles. He's a great leader. He's a great older influence to have, especially for a young guy like me to know how to go about your business."
Carrie Muskat is a reporter for MLB.com. She writes a blog, Muskat Ramblings, and you can follow her on Twitter @CarrieMuskat. This story was not subject to the approval of Major League Baseball or its clubs.