Alonso close to resuming baseball activities
Alonso close to resuming baseball activities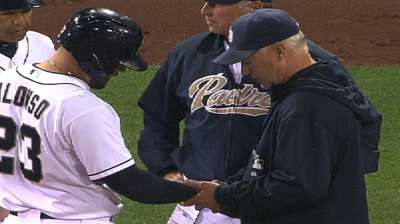 MIAMI -- Injured first baseman Yonder Alonso is getting closer to returning to the field. He has been on the 15-day disabled list since June 6 with a fractured bone in his right hand.
Alonso was hit by a pitch in the seventh inning of a 4-3 loss to the Blue Jays on May 31.
"He's getting closer to doing full baseball activities," Padres manager Bud Black said. "By that, I mean grounders, throwing, hitting in the cage, hitting off a live arm. Not the soft toss or the tee work."
Before Alonso could rejoin San Diego's lineup, Black said the first baseman needed to get his hand strength back, face live pitching and play in at least five games.
Alonso is not with the Padres on their road trip. However, once the 26-year-old resumes baseball activities, Black wants him back with the club before beginning a rehab assignment.
"I'd like to get him here," Black said. "If he's hitting, I'd like him to hit with us."
Joe Morgan is an associate reporter for MLB.com. This story was not subject to the approval of Major League Baseball or its clubs.