Crew can't come through to support steady Hand
Crew can't come through to support steady Hand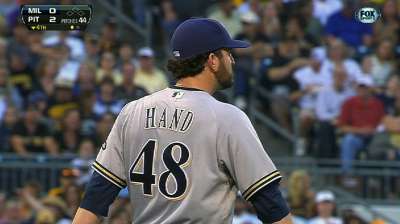 PITTSBURGH -- The Brewers' banged-up roster was on display for a national television audience on Saturday night. Donovan Hand, who had pitched almost exclusively in relief in the Minor Leagues since 2009, made his second Major League start. Sean Halton, a Minor League first baseman, made his first Major League start as the right fielder. Utility man Yuniesky Betancourt was again at first base, a position that was supposed to belong to slugger Corey Hart before knee injuries knocked him out for the season. Ryan Braun remained sidelined with his right hand injury, and Aramis Ramirez played through the lingering discomfort in his left knee.
Against baseball's hottest club, the Brewers needed more firepower. Hand delivered five solid innings and Betancourt drove in the only run, but the Pirates got a quality start from Francisco Liriano and home runs from Pedro Alvarez and Garrett Jones to win, 2-1, at PNC Park.
"There's no doubt that we're short. There's no doubt," Brewers manager Ron Roenicke said. "But this is what we have right now."
The Brewers will have to win Sunday afternoon to avoid being swept by a Pirates team they had previously handled. This team appears different.
The Pirates have won eight games in a row and are 8-4 against Milwaukee this season, including 5-1 in Pittsburgh and 50-30 overall, the best record in the Majors. Saturday marked their fifth straight sellout, a first for PNC Park.
Sunday will mark the halfway point of the Pirates' season, a point manager Clint Hurdle made clear as fireworks entertained the postgame crowd.
"They don't break trophies in half," Hurdle said. "We've got to continue to believe in the process of what we're building, and acknowledge the fact it's gotten us to a workable place, but there's more out there. The focus part of it is critical."
At the bottom of the National League Central sat the Brewers, who slipped back to a season-worst 15 games under .500 for the first time since the morning of June 7.
"There's another end of the tunnel to this thing," Hand said.
The 27-year-old did his job for the second straight start, holding the Pirates to two solo home runs in five innings. Hand surrendered five hits in all, did not walk a batter and struck out two, but he remained winless in the Majors after throwing 64 pitches -- a whopping 53 of them for strikes.
"Maybe a few too many strikes," Hand said.
Two of those pitches in the strike zone burned him. In the second inning, Alvarez connected with a two-strike fastball and hammered a solo home run that sailed 445 feet over the right field stands and into a tree before rolling into the Allegheny River. In the fourth, another left-handed hitter, Garrett Jones, hit a fastball for another solo home run, this one just clearing the fence in straightaway center field.
It was Alvarez's 20th home run of the season and Jones' seventh.
Liriano allowed only one run on seven hits in six innings, the 15th consecutive game in which the Pirates' starting pitcher surrendered fewer than four runs. Relievers Tony Watson, Mark Melancon and Jason Grilli finished things off, with Grilli earning his 27th save on six pitches.
"[Liriano] is a really good pitcher, and he has been, it's just that health has been the issue for him," Roenicke said. "And then Watson came in and did a nice job, and the setup and the closer ... you look at numbers and they're having a fantastic year."
In other words, the Brewers were in trouble when they were trailing, 2-1, entering the seventh.
"Yeah, we needed to get to them earlier before we get to those guys," Roenicke said.
The Brewers coaxed 91 pitches in Liriano's six innings, but the left-hander limited the damage by escaping a trio of jams. Rickie Weeks walked to lead off the game and advanced on Jean Segura's single, but Liriano erased former teammate Carlos Gomez with a strikeout and Ramirez with an inning-ending double play. In the fourth, Gomez hit a leadoff triple but never scored. Ramirez struck out, Gomez was out breaking for home on contact when Jonathan Lucroy hit a grounder to a drawn-in infield, and Betancourt grounded out.
The so-called contact play, Roenicke conceded, "is getting us, no doubt about it. You get unlucky and you hit balls right at people, and it's continued for a long time. Usually, you'll have a bad week. But this has lasted a long time. … We're not playing good enough to get the good luck and the breaks."
The Brewers finally scored in the sixth on Betancourt's two-out RBI single, which left two runners on base. But Halton, who had singled in the second inning, flied out to center field.
Liriano improved to 7-3 with his fourth victory in five decisions and saw his ERA drop slightly to 2.23. He is 6-2 in his career against the Brewers.
The Brewers mounted one more threat against Melancon in the eighth when Gomez struck out, but reached base on a wild pitch. He moved into scoring position on a Ramirez groundout, but Lucroy also grounded out to end the inning.
"Somewhere in there, we're going to get some hits," Roenicke said, "and guys are going to come through and we're going to beat some of these good pitchers when games are on the line."
Adam McCalvy is a reporter for MLB.com. Read his blog, Brew Beat, and follow him on Twitter at @AdamMcCalvy.
This story was not subject to the approval of Major League Baseball or its clubs.