Liriano's magic start leads Bucs to eighth straight win
Liriano's magic start leads Bucs to eighth straight win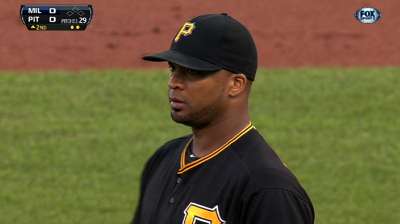 PITTSBURGH -- Francisco Liriano and the Pittsburgh Pirates are still keeping their other shoe on.
Liriano embodies his team in one fascinating regard. People keep waiting for him to live up to his pedigree and fall apart, just as they wonder when the "real" Pirates will wake up and snap the dream.
Dream on. With Liriano tendering six innings in his familiar tenacious style, the Bucs edged the Brewers, 2-1, Saturday night at PNC Park for their eighth straight win and No. 50 of the season.
Never before in their 127-year history have the Pirates entered July with 50 wins -- and they can make it 51 in Sunday's series finale with Milwaukee.
"It says we're playing good baseball through the month of June," Pirates manager Clint Hurdle said. "But they don't break trophies in half. We have to acknowledge we've had this team's best season in 21 years ... so far."
Turning in his sixth authoritative quality start out of 10, Liriano made solo homers by Pedro Alvarez and Garrett Jones stand up. The Bucs have also won eight consecutive one-run decisions at home.
"We've won a number of games that way. It's a staple, more than anything else," Hurdle said. "Two big swings of the bat."
And 91 swings of Liriano's big left arm, one for each pitch he delivered while allowing seven hits and a run in six innings. He had to repeatedly squirm out of trouble, and he managed to strand six baserunners with clutch deliveries (Milwaukee was 1-for-7 with men in scoring position while he was on the mound) and sharp command, his new calling card. Six strikeouts and one walk improved his season ratio to 67 strikeouts to 23 walks in 60 2/3 innings.
Liriano made it 15 straight games in which Pittsburgh's starters -- none of them named A.J. Burnett or Wandy Rodriguez, the two injured aces -- allowed three earned runs or fewer.
"It means a lot," Liriano said of extending that streak of dominance. "We're playing pretty good baseball right now and have to continue it, so every five days I go out and try to do my job. So far, so good."
Tony Watson, Mark Melancon and Jason Grilli -- earning his 27th save of the season but first in eight days -- pitched an inning each to preserve Liriano's seventh win.
"[Liriano] is a really good pitcher, it's just that health has been the issue for him," Brewers manager Ron Roenicke said. "And then Watson came in and did a nice job, and the setup and the closer; you look at numbers and they're having a fantastic year. Yeah, we needed to get to them earlier before we get to those guys."
While Liriano tied for the team lead for victories with left-hander Jeff Locke -- who made his first start 34 days before Liriano came off the DL for his season debut -- Grilli continued to improve on his own club record for most saves prior to the All-Star Game break.
The Pirates were meeting a 2013 first-of-a-kind challenge: defending their one-game division lead in the face of the Cardinals' earlier victory in Oakland, a 7-1 result that goaded them from the scoreboard from the first pitch.
The Bucs responded -- as did their fans. The game attracted 38,438, the Pirates' fifth consecutive sellout, a PNC Park record. It is believed to also be a franchise-first, although attendance figures for the Forbes Field and Three Rivers Stadium years are unreliable.
"That crowd is significant," Hurdle saluted. "The guys are feeling it, and enjoying it. We're headed in the right direction."
Liriano's hardest time was not on the mound, but on the bases. He reached the unfamiliar territory by bunting into a forceout in the third, and he made it to third on Starling Marte's double. But when Russell Martin followed with a hard smash deep into the second-base hole, he momentarily froze before deciding to come home, where he was an easy target for Rickie Weeks' throw.
Liriano gave the Brewers as hard a time scoring from third base as he had, so all was forgiven.
Even after Carlos Gomez led off the fourth with a triple, Liriano would not let him get any farther. After striking out Aramis Ramirez, he got Jonathan Lucroy to bounce into the teeth of the drawn-in infield, and Gomez was a goner on second baseman Neil Walker's throw. A comebacker by Yuniesky Betancourt then ended the inning.
"Walker made a great play. That was a game-saver right there," Liriano said.
"The defense showed up very well tonight," said Hurdle, mindful as well of Alvarez's clutch glove and of several rangy plays by shortstop Jordy Mercer.
The Bucs continued showing off their democratic power. They may not hit the most home runs -- they entered the game tied for fifth in the National League -- but they have everyone chip in.
Their last six homers have been clocked by six different players, the latest in that chain being Alvarez in the second inning and Jones in the fourth. Likewise, eight different players have hit the team's last nine homers, the only repeater being Starling Marte.
Alvarez's 445-foot blow, which caromed off a tree into the Allegheny River, was his 20th of the season, nearing him within one of the league lead shared by Carlos Gonzalez of the Rockies and Dominic Brown of the Phillies -- who will be in Pittsburgh to open a three-game series Tuesday night. The hit also stretched Alvarez's streak to 12 games, the longest of his career.
Tom Singer is a reporter for MLB.com and writes an MLBlog Change for a Nickel. He can also be found on Twitter @Tom_Singer. This story was not subject to the approval of Major League Baseball or its clubs.