Halos back Blanton with strong D, hot bats vs. Astros
Halos back Blanton with strong D, hot bats vs. Astros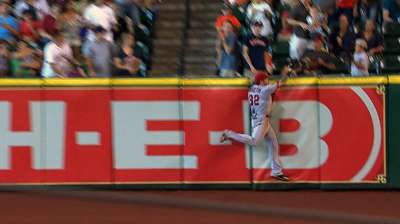 HOUSTON -- With so many of Joe Blanton's quality starts ending with a loss or no-decision this year, the Angels' defense took matters into its own hands.
Right fielder Josh Hamilton made two leaping catches at the wall to potentially save four runs, making a four-run fourth inning and a pair of homers hold up as the Halos downed the Astros, 7-2, on Saturday afternoon in Minute Maid Park.
"The defense did a great job and I had some runs to work with early," said Blanton, who gave up three hits in seven innings. "It's nice to have [the outfielders] go get it for you and it gives you more confidence to attack the zone."
The win was the fifth in a row for the Angels, who responded to a sweep at the hands of the Astros a month ago by already claiming this weekend's series.
Blanton carried a shutout into the seventh before Brett Wallace hit a two-run homer that barely cleared the left-field fence. Still, he earned a win for just the second time in six tries this season when allowing two earned runs or fewer, improving his season record to 2-10.
"He spots the ball around, has excellent command of his breaking stuff and did an excellent job keeping us off balance," Houston manager Bo Porter said of Blanton. "Even the balls we hit hard, they just happened to make great plays. It's one of those things. All you can do is swing the bat, hit the ball hard and you have no control over whether it gets down for a hit."
Blanton's turn in the rotation was skipped after he gave up six earned runs to Boston on June 9. He's been sterling in three outings since, allowing only five earned runs and striking out 23 in 21 innings.
"I think Joe's ability to locate the fastball is getting more refined as he's gotten into the season after that hiatus we gave him," said Angels manager Mike Scioscia. "That sets up the opportunity to command counts, so then he's unafraid to challenge guys when he has his command.
"You've seen him gradually improve his command and results since the first month of the season."
Following a pitchers' duel through the game's opening third, the Angels broke things open in the fourth against Astros righty Jordan Lyles.
After a walk, a single and a hit by pitch, the Halos had the bases loaded with no outs for Alberto Callaspo. One day after his 12-game hitting streak was snapped, he laced a single up the middle for his ninth and 10th RBIs in the last two weeks.
Peter Bourjos was then hit by a pitch -- and exited the game with a right wrist contusion in his return to the lineup following the inning -- before Erick Aybar created some breathing room, driving in two more runs with a single.
"No doubt we were in good counts, that was the key," Scioscia said. "We pressured Lyles the first three or four innings and then broke through. That fourth inning was set up by getting in good counts and taking walks when they were there. That leads to the clutch hitting from Erick and Alberto."
Aybar finished with two hits for his 14th multihit game of the month, which is tops in the American League.
"It's just feeling comfortable physically," Aybar said. "I feel good when I hit right now. That's all that matters."
Howie Kendrick added a solo shot in the fifth inning to make it 5-0 Angels.
Houston outfielder J.D. Martinez nearly tightened the score himself several times, driving the ball to the warning track on three occasions. Hamilton robbed him of a three-run shot in the fourth and followed that by robbing Matt Dominguez in even more spectacular fashion moments after Wallace's homer made it 5-2 in the seventh.
"Josh made two big plays at a tight point in the ballgame, and through his whole struggle on the offensive side, he's played great defense for us, showing great range," Scioscia said. "He took away two homers for us today, and he made them look easy."
Catcher Chris Iannetta, who was making his first start in three days, hit a towering two-run shot in the eighth that just snaked inside the left-field foul pole.
Iannetta's homer came off Houston reliever Travis Blackley, who tagged out J.B. Schuck during a rundown following a pickoff to end the frame. Tensions ran high as Blackley forcefully tagged Schuck out and slammed the ball to the infield dirt.
"He gave me a little shove, and I was frustrated and I turn around and he'd thrown the ball into the ground," Schuck said. "I don't really know what the issue was."
The incident provided the only late drama in the game. Following five straight wins via comeback and a season full of one-run games, the Angels' bullpen didn't have to break a sweat as it closed out the Halos' sixth straight road win.
The victory evened the Angels' June record at 13-13, with the month's rubber match tomorrow as they look to sweep Houston.
Chris Abshire is an associate reporter for MLB.com. This story was not subject to the approval of Major League Baseball or its clubs.