Mesoraco blasts Reds past Rangers in 11
Mesoraco blasts Reds past Rangers in 11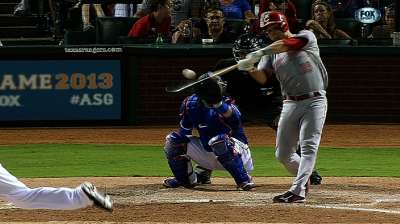 ARLINGTON -- The Reds didn't celebrate scratching out a victory over the Rangers as much as breathe a sigh of relief on Saturday night.
In a game filled with flaws, the Reds pulled out a 6-4 win on Devin Mesoraco's two-run home run in the top of the 11th inning. The victory kept them 4 1/2 games behind the super-hot first-place Pirates, who defeated the Brewers, 2-1, in the National League Central.
"Much needed, big time," Reds manager Dusty Baker said of the win. "We made a bunch of mistakes, but we kept fighting and fighting. That's all that matters -- we got a win."
For a team that lost six of its previous seven games, it was a night that began optimistically. Shin-Soo Choo snapped Cincinnati's 22-inning scoreless streak by hitting the first pitch of the game for a home run off Rangers starter Nick Tepesch. Brandon Phillips made it 2-0 in the second inning when he hit a bases-loaded RBI single that ended an 0-for-18 team streak with runners in scoring position.
And Reds starter Mike Leake was sharp again, giving up only one hit over his first three innings.
"We definitely needed this one," Mesoraco said. "This would have been a real hard one to lose. Leaker threw great. He's done what he's been doing all season. He's thrown the ball as well as anybody in the league. He deserved better than what he got."
In the ugliest fashion, Leake lost his lead in the bottom of the third. It took three errors in the inning to make that happen, including two from first baseman Joey Votto.
Engel Beltre hit a routine one-out grounder to first base that Votto flubbed for his first error. After a Leonys Martin single put runners on the corners, Ian Kinsler hit a grounder to Votto. His throw to the plate was in the dirt and got away from Mesoraco for his second error and No. 10 of the season as Beltre scored.
Next, Elvis Andrus bounced a ball to shortstop Zack Cozart, who made a throwing error to third base as Martin scored. Nelson Cruz's sacrifice fly gave Texas a 3-2 lead, and all three runs against Leake were unearned.
"Leake pitched his heart out," Baker said. "Usually when that happens, when a guy is the recipient of bad things happening behind him, he loses his cool and composure. And he didn't. He's come a long ways. He's really matured right in front of our eyes."
On the inside, Leake wasn't pleased with the errors, but he showed no emotion throughout the inning, or the innings that followed.
"There's nothing positive that comes out of showing a reaction," Leake said. "You've just got to do your part and keep getting bad swings on balls."
Cincinnati's defense entered the night with second-best fielding percentage in the National League. No team in the Majors had a three-error inning since the Nationals on July 15, 2011. It hadn't happened to the Reds since May 5, 2006.
"Our guys work on it big time," Baker said. "We take pride in defense. It was just a bad night. Anybody can have a bad night."
Leake just went back to work and retired eight in a row until giving up back-to-back doubles in the sixth, including an RBI ground-rule double by Cruz. He finished with seven innings and one earned run, one walk and four strikeouts.
In his last nine starts, Leake has a 1.31 ERA. It was his second straight no-decision, but who got the victory definitely trailed in importance to getting a team win.
"We just needed to get off of that little spell," Leake said. "It was nice to get another win, even though it doesn't seem like anybody is excited. It's just a matter of getting back on track and getting a few in a row to get a little more confidence back."
In the Reds' fifth, three straight hits, including Cozart's RBI double to the gap in left-center field, chased Tepesch with no outs. Xavier Paul's one-out RBI single with the bases loaded off Ross Wolf gave the Reds a 4-3 advantage. Jack Hannahan then grounded into a 4-6-3 double play.
The Reds were 3-for-12 with runners in scoring position and stranded nine runners. They also struck out 12 times.
Reds lefty reliever Manny Parra pitched a perfect bottom of the ninth and retired the first Rangers batter in the 10th. Right-hander J.J. Hoover (1-5) took over and worked out of a jam with runners on the corners and two outs to get his first win of the season.
Texas reliever Kyle McClellan entered in the 11th and hit leadoff hitter Todd Frazier on the back with a 1-2 breaking ball. Mesoraco, who was 0-for-4 with three strikeouts, followed by pulling a 1-1 fastball well over the left-field wall for his fourth homer.
"Baseball is a crazy game. Sometimes when you're struggling, you try harder," Mesoraco said. "But in reality, you should try less. When you go up there and you're grinding and trying to get a hit, most of the time you're not going to do it. I think it's just a matter of going up there, relaxing and staying within yourself."
The win leaves the Reds with a 2-5 record on their road trip with one game left, but they have a chance to take the series on Sunday with another victory.
"Every streak starts with one," Baker said. "You've got to get one before you get 10, six or whatever. Definitely, I believe one game gets you going. And that way you win it can get you going sometimes, too."
Mark Sheldon is a reporter for MLB.com. Read his blog, Mark My Word, and follow him on Twitter @m_sheldon. This story was not subject to the approval of Major League Baseball or its clubs.