Rangers fall to Reds on 11th-inning homer
Rangers fall to Reds on 11th-inning homer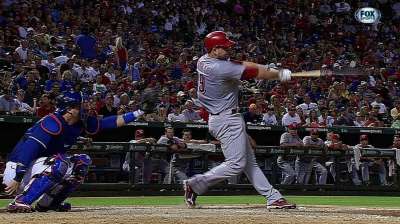 ARLINGTON -- The Rangers went to Kyle McClellan in a tie game Saturday night for the first time in 10 days. It resulted in the reliever's first defeat with the club in a 6-4 loss to the Reds at Rangers Ballpark.
McClellan entered following six shutout innings from the bullpen by Ross Wolf, Neal Cotts and Joe Nathan, who combined to allow four hits with one walk and five strikeouts. McClellan hit Todd Frazier in the back on a 1-2 count to lead off the 11th with the game tied at 4. Devin Mesoraco then hit a two-run home run to left field on a 1-1 count. McClellan took the loss after allowing two runs on one hit in one inning. He also walked a batter.
"I had [Frazier] out," McClellan said. "I had my pitch and got him right where I wanted him. It's my out pitch and I missed on the first one and missed on the second one. It doesn't get more frustrating than that."
Rangers manager Ron Washington gave Tanner Scheppers the night off, leaving him to use McClellan, who hasn't pitched since June 19. He has a 7.71 ERA this season and has allowed a run in five of his seven appearances. The Rangers fell to 1-5 in extra-inning games, which is the lowest winning percentage (.167) in the Majors.
"There's no excuse for it," McClellan said. "I did everything in between to stay sharp. I just didn't get it done. It's disappointing. I felt like I let this team down. These guys battled all night."
The Rangers turned to their bullpen early with Nick Tepesch pitching just four-plus innings. They fell behind on the first pitch of the game when Tepesch allowed a home run to Shin-Soo-Choo. Tepesch minimized damage in the third despite an error by Jurickson Profar on Derrick Robinson's grounder to second. Robinson scored on Brandon Phillips' bases-loaded RBI single with one out to give the Reds a 2-0 lead. Tepesch then struck out Jay Bruce and Xavier Paul looking to end the threat.
The Rangers took the lead off Mike Leake in the third inning despite recording just one hit. The Reds had three errors in the inning, including two by first baseman Joey Votto. Engel Beltre reached with one out on a fielding error by Votto and scored two plays later on a check swing by Ian Kinsler to Votto, who recorded a throwing error firing to home plate. Kinsler reached second on the error, and he advanced to third on a throwing error by Zach Cozart, scoring Leonys Martin. Kinsler scored on a sacrifice fly by Nelson Cruz to give the Rangers a 3-2 lead.
"Our guys work on it big time," Reds manager Dusty Baker said. "We take pride in defense. It was just a bad night. Anybody can have a bad night."
Tepesch left the game in the fifth after three straight hits during his third time through the lineup. Choo singled to start the inning and scored on a double by Cozart, and Votto singled to put runners at the corners. Paul knocked an RBI single off Wolf with the bases loaded to give the Reds a 4-3 lead, but Wolf picked up a double play to get out of the inning.
Tepesch allowed four runs (three earned) on six hits in four-plus innings. He struck out seven and walked two on 91 pitches. Opponents are now hitting .446 (37-of-83) off Tepesch during his third time through the lineup.
"They had a lot of deep counts on me today, and I was working pretty hard," Tepesch said. "I threw a lot of pitches and they saw a lot of pitches."
The Rangers tied the game in the sixth with consecutive doubles by Andrus and Cruz.
Leake gave up four runs (one earned) on three hits in seven innings. He struck out four and walked one on 93 pitches in the no-decision. Leake has allowed one earned run or fewer in seven of his last nine starts.
"It's disappointing in the fact that we didn't win, but other than that, [Leake] did a good job keeping us off balance," A.J. Pierzynski said. "We had a couple chances we didn't cash in, but we also cashed in a couple that we probably shouldn't have, so it evens out."
The Rangers had three chances to break the tie before Mesoraco's home run. Pierzynski and Mitch Moreland had two fly balls that died at the warning track. Pierzynski slammed his batting helmet after Choo caught a fly ball in right on the warning track in the eighth. Bruce leaped into the right-center-field wall near the Rangers bullpen to retire Moreland leading off the ninth. With runners on the corners in the 10th, Adrian Beltre popped out in foul territory to end the inning.
"They just snatched it from us," Washington said. "We had our chance in the 10th inning with runners on first and third. We just didn't get the hit."
Master Tesfatsion is an associate reporter for MLB.com. This story was not subject to the approval of Major League Baseball or its clubs.