Viciedo fighting through tough stretch
Viciedo fighting through tough stretch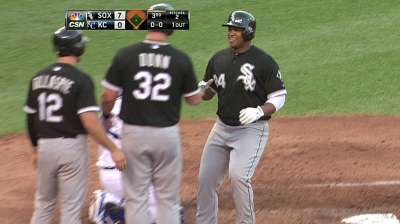 CHICAGO -- Dayan Viciedo is dealing with one of the worst stretches of his Major League career, made a little tougher in Game 1 of Friday's doubleheader when he slowed down around third with two outs in the eighth inning as he tried to score from second on Jeff Keppinger's single. Viciedo was thrown out, moving into more of a jog after he saw third-base coach Joe McEwing throw up a stop sign, and did not start the nightcap because of that miscue according to manager Robin Ventura.
But Viciedo was back in action for Saturday's contest.
"It's not [like] you're in the doghouse forever," Ventura said. "He knows. It's just one of those [plays where] you run hard. If it's in play, you run as hard as you can.
"There are very few times in the game, where not running hard [is fine] -- if you walk, I don't expect you to sprint down there. But other than that, if it's in play, you gotta give [McEwing] a chance to send you."
Viciedo has one homer and 11 RBIs since May 16, covering a span of 37 games. He also is hitting just .167 in his last 27 games heading into Saturday.
Struggles such as these would make any young player a candidate to be sent to the Minors. But Ventura knows Viciedo's full capabilities and is banking on those eventually shining through.
"You see the potential for him to be able to make it through and be a very good player," Ventura said. "Right now, I don't necessarily see [Viciedo being optioned]. But any time you're dealing with what you're going through, it's there for pretty much anybody."
"There's so many of us going through a bad stretch right now, and that's what I think it is. It's a bad stretch," said Viciedo through translator and White Sox director of public relations Lou Hernandez. "You hate to call it luck, but we've worked hard. It's just been a really bad stretch."
Viciedo gained a measure of redemption on Saturday, going 3-for-4 with an RBI and making two diving catches.
Scott Merkin is a reporter for MLB.com. Read his blog, Merk's Works, and follow him on Twitter @scottmerkin. This story was not subject to the approval of Major League Baseball or its clubs.