Rockies close to disabled-list decision on Fowler
Rockies close to disabled-list decision on Fowler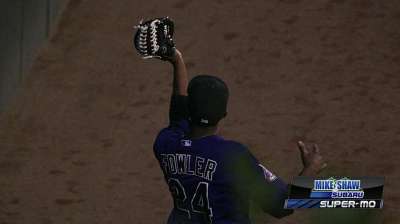 DENVER -- The Rockies will have to decide soon whether to place center fielder Dexter Fowler on the 15-day disabled list because of his continued right wrist issues.
Fowler (.291, 10 homers, 26 RBIs in 70 games) hasn't played since going 0-for-4 and hurting the wrist on a swing Tuesday at Boston. Before then, Fowler was dealing with pain from having been hit on the right ring finger with a pitch earlier in the month. An MRI on the wrist revealed no structural damage but a small amount of fluid. Two earlier X-rays on the finger did not reveal a break.
"He's still day to day right now," Rockies manager Walt Weiss said. "There is a little bit of an improvement. The hand is tricky in this game. You take one swing and you can take a few steps back. We are going to try and let it calm down. We will give it another day or two and take it from there."
Weiss said he hopes Monday's day off will give Fowler time to heal, and he'll have to be able to play Tuesday or else he will go on the disabled list. But there's also the possibility the Rockies will make a decision by Sunday, since his injury leaves Weiss' bench options limited Saturday and Sunday in National League West games against the Giants.
If Fowler doesn't play, the Rockies can backdate his disabled-list placement Wednesday. If he is used Saturday or Sunday and then placed on the DL, the move can't be backdated.
"It's on the same hand, so it's tough to say if he's compensating for the finger and putting himself in a bad position [with the wrist]," Weiss said.
Fowler's swing has been compromised when in the lineup, and Friday night he was supposed to start but was scratched just before first pitch. Fowler received treatment Saturday. Corey Dickerson assumed Fowler's normal duties, starting in center field and leading off, Saturday against the Giants.
Thomas Harding is a reporter for MLB.com. Read his blog, Hardball in the Rockies, and follow him on Twitter @harding_at_mlb. This story was not subject to the approval of Major League Baseball or its clubs.