Tulo eager to be cleared for more rehab work
Tulo eager to be cleared for more rehab work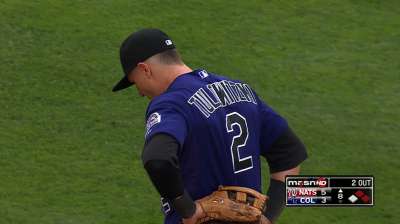 DENVER -- Dripping with sweat and brimming with hope, Rockies shortstop Troy Tulowitzki came off the field after taking ground balls Saturday morning and said he is ready to increase the intensity of his rehab from a broken rib -- if cleared by the team's training and medical staffs.
To move closer to that point, Tulowitzki took about 20 swings, some off the tee and some short-toss, in the batting cage Saturday afternoon.
Saturday morning marked the first time Tulowitzki took grounders off the bat. Friday afternoon, he took some rolled to him from a short distance. The movement and throwing didn't cause any major problems. Tulowitzki also planned to take a limited number of swings off the tee Saturday. On Friday, he felt some pressure in his ribs while taking 10 swings, but Saturday he was able to increase the activity.
"It went well -- it was not intense or anything but it was going through the motions and getting a feel for it," Tulowitzki said. "I wasn't letting it go, but there was nothing that was bothering me. It was a step in the right direction."
Tulowitzki, who was injured June 13 while diving for a ground ball, is faithfully reporting how he feels to the training staff. The next hurdle will be clearance from doctors. The results of a yet-to-be-scheduled MRI will determine when that clearance comes.
"Believe me, I've been bugging them about it more than you guys have been bugging them about it," said Tulowitzki, who going into Saturday's play was tied with teammate Michael Cuddyer for second in the National League in hitting at .347 and was leading the league in slugging percentage at .635.
"There's kind of a plan to this thing, how they're going to attack it. Since day one of this year, I've listened to them. But I feel good. I have no problems defensively throwing and moving around. The big thing is my legs feel good. I've missed a lot of time, so my legs feel fresh."
Leg muscle injuries have derailed Tulowitzki in the past. A right groin injury last year required surgery in June, and he missed the rest of the season. The Rockies have monitored Tulowitzki's activity to prevent recurrence of those injuries, and they're applying the same caution to his rehab from the rib injury.
"Tulo looks great," Rockies manager Walt Weiss said. "Defensively there are no issues. He feels it a little bit on certain throws but he looks great moving around out there. I think he's supposed to get another MRI here shortly and that'll tell us the plan of action."
Thomas Harding is a reporter for MLB.com. Read his blog, Hardball in the Rockies, and follow him on Twitter @harding_at_mlb. This story was not subject to the approval of Major League Baseball or its clubs.