Francona wants to give Carrasco extra rest
Francona wants to give Carrasco extra rest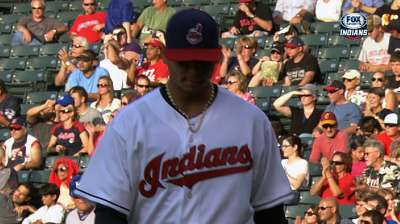 CHICAGO -- With the Indians' off-day on Monday, manager Terry Francona wants to give right-hander Carlos Carrasco an extra day of rest, after he started Game 2 of Friday's doubleheader in Chicago. Carrasco had been dealing with back spasms before the outing.
Francona relayed that Carrasco wants to remain on his normal schedule because he feels confident with how he's been throwing recently and doesn't want to throw off his rhythm. Carrasco allowed six runs over 5 2/3 innings on Friday night, but after the game Francona said his starter's line didn't mirror how well he pitched.
"We just want to see how he throws. We just want to see what [puts] him in the best position," Francona said. "It seems kind of silly if you have an off-day and a guy is having back spasms and it's still bothering him to not use it to your advantage."
Francona will hold off on making any decisions until after Carrasco's next bullpen session. The 26-year-old was sent down to Triple-A Columbus after Friday's start, as the Indians were allowed to carry an extra player for the doubleheader per last year's rule under MLB's new Basic Agreement. Francona said he wanted to give Carrasco all the rest he needed before being recalled for his next outing to assure his back spasms were a thing of the past.
"Because of the off-day, we have the ability to do a few different things," Francona said. "After [Saturday], we can map out the next week. If we think it's in his best interest, we can do it."
Ethan Asofsky is an associate reporter for MLB.com. This story was not subject to the approval of Major League Baseball or its clubs.