Sox optimistic Drew can avoid DL; Mortensen DFA'd
Sox optimistic Drew can avoid DL; Mortensen DFA'd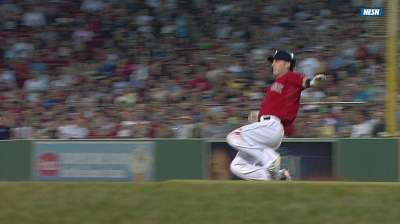 BOSTON -- A day after Stephen Drew had to exit Friday's game with tightness in his right hamstring, the Red Sox were optimistic he could avoid going on the disabled list.
But Boston still needed a roster spot to call up infielder Jonathan Diaz, so that led to Clayton Mortensen being designated for assignment.
"Stephen Drew is not a DL situation, so that kept us from bringing [Will] Middlebrooks back, or even being considered," said Sox manager John Farrell. "The other part of this is Diaz can also play shortstop. So there were a number of contributing factors to the decision of both Clayton and Jonathan coming here, so that's where we are today."
After pitching well for the Red Sox in 2012, Mortensen wasn't as reliable this season, posting a 5.34 ERA in 24 games.
"Performance-based, and the fact is, we needed a roster spot," Farrell said. "We couldn't option someone to get Diaz here. Unfortunately Clayton's spot is the one that's been opened up."
Mortensen took the news in stride. While his top preference would be to be claimed by a team that needs his services in the Majors, he said he'd be open to going to Triple-A Pawtucket if nothing else presents itself.
As for Drew, the Red Sox don't know precisely when he'll be back, but they don't think -- at least at this point -- that he'll be out long.
"As we've taken the approach with Shane [Victorino] in the past, and, really, any guy that's day to day, we don't feel like this will get to that midway point of the potential 15 days," said Farrell. "I say that today, but that's the initial read on his hamstring situation. He felt slightly improved this morning. There was less swelling in the right hamstring. We did get him on the treadmill at least to walk, so he's responding favorably to treatment, and some range of motion of exercise is already initiated."
Ian Browne is a reporter for MLB.com. Read his blog, Brownie Points, and follow him on Twitter @IanMBrowne. This story was not subject to the approval of Major League Baseball or its clubs.