Konerko not thinking about trade talk
Konerko not thinking about trade talk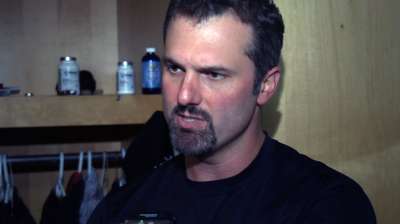 CHICAGO -- With 15 years as a White Sox staple on his impressive resume, team captain Paul Konerko won't be traded anywhere over the next few weeks or months without his consent under Major League Baseball's 10-and-5 rule.
The high level of respect held by the organization for Konerko also factors into any possible move.
But the veteran leader, who has missed the past four games due to back pain, isn't giving much thought to that switch to a contender.
"I'm not going to get into that," said Konerko, when asked for his thoughts about consenting to a trade. "I'm just trying to get back on the field. I don't know many teams that are going to want a guy who can't play. Until I get back out there and start doing some things, that's off in the distance.
"My goal is to get this going here and try in the next three, four weeks until they have to make those decisions on everybody in here -- and let's see if we can get good and see what happens. I don't have any answers, right now."
Konerko swung the bat on Saturday, which is a far cry from being unable to even stand up straight at the beginning of this week. While manager Robin Ventura doesn't expect Konerko in the lineup this weekend against the Indians, he could see him back by Tuesday against the Orioles and avoiding the disabled list.
"There was no sharp pain or anything making me afraid to take a swing," Konerko said. "I was a little stiff and heavy, but obviously I hadn't picked up a bat since Sunday.
"You always feel a little awkward not touching a bat in five days. It wasn't a stellar performance or anything, but enough to where I could see the light at the end of the tunnel. My hope is tomorrow I come in and it moves as much as it did from yesterday to today and go get 'em tomorrow. And if, for some reason, I can't go tomorrow, I can't see how I wouldn't be ready Tuesday -- especially with the off-day [on] Monday."
As for the team's season-long struggles leading to a plethora of moves by general manager Rick Hahn, Konerko believes those moves won't happen immediately -- and there might not be as many as people imagine. He also knows that the players will have a handle on what happens, regardless of the team's direction.
"This isn't life-ending or life-threatening situations," Konerko said. "You go out there and give it everything you got. But, at the end of the day, all you can do is your best.
"No one is happy in here. This is not part of the plan. There's no other way to say it."
Scott Merkin is a reporter for MLB.com. Read his blog, Merk's Works, and follow him on Twitter @scottmerkin. This story was not subject to the approval of Major League Baseball or its clubs.