Bourjos exits with right wrist contusion after HBP
Bourjos exits with right wrist contusion after HBP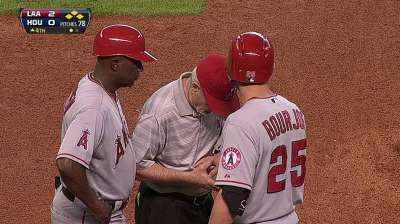 HOUSTON -- Angels center fielder Peter Bourjos can't seem to catch a break from the injury bug.
During his first start in five games after returning from a left thumb bruise, Bourjos was hit by a pitch in the fourth inning of Saturday's game against the Astros and had to be removed from the lineup.
The official diagnosis was a right wrist contusion. Bourjos hopped away from the plate clearly in pain, but he stayed in the game initially and was stranded at third following Erick Aybar's two-run single.
To open the bottom of the frame, J.B. Schuck took Bourjos' place in the nine hole of the order and played in left field, while Mike Trout shifted over to center.
"He's getting a precautionary X-ray done today, and we'll get an idea of what's going on," Angels manager Mike Scioscia said after the Halos' 7-2 win. "He's dealt with all of it, the whole process before."
Bourjos was 0-for-1 with a strikeout and the hit by pitch before being removed.
Bourjos missed the entire Detroit series with the thumb injury -- which he suffered Sunday against Pittsburgh -- and wasn't in the starting lineup Friday, but he eventually pinch-ran and scored the winning run.
"It feels pretty good," Bourjos said. "The swelling is down, but it's still sore. Still, it's manageable."
He didn't take batting practice until before Friday's game due to the severe swelling, but Scioscia was impressed enough by the swings to put Bourjos back out in center field and in the nine hole Saturday.
"What did it was he swung the bat in BP and really looked good," Scioscia said. "He had no apprehension swinging it. That gave us confidence he could get back in the lineup."
Bourjos was wearing a protective pliable brace around the thumb on Saturday.
The 26-year-old also missed six weeks with a hamstring injury earlier this season.
Chris Abshire is an associate reporter for MLB.com. This story was not subject to the approval of Major League Baseball or its clubs.