Davis homers twice in Orioles' rout of Yankees
Davis homers twice in Orioles' rout of Yankees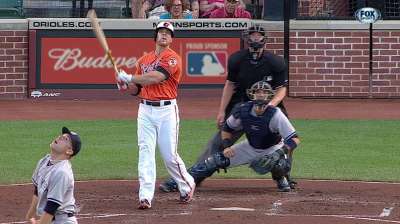 BALTIMORE -- It was as though the Orioles' offense, though one of the best in baseball this season, had hit a delay this past week. First there were Indians starters Justin Masterson, who retired the first 12 batters he faced, and Scott Kazmir, who took a no-hit bid into the seventh. Then there was Yankees ace CC Sabathia, who held Baltimore hitless for five innings on Friday night before Nate McLouth gave the team its first hit in the sixth and the bats mustered up four late runs.
Consider the lull over. Baltimore (46-36) pounded New York starter David Phelps, scoring nine runs over the first seven outs to take all the drama out of Saturday night's prime-time game. A four-run first inning highlighted by the first of two Chris Davis home runs set the stage for an 11-3 series-securing rout in front of a sold-out crowd at Camden Yards.
The Orioles, who had scored 10 or more runs just once in their previous 33 games, sent nine men to the plate in the first inning and moved to 2 1/2 games behind the first-place Red Sox in the American League East. Winners of four of five home games against New York this season, Baltimore has won back-to-back home series over the Yankees for the first time since April 18-20 and May 26-28, 2008.
"I think it's just a testament to how good of a baseball team we are now," left-hander Zach Britton, who went 5 2/3 innings, said of Baltimore bridging the divisional gap. "[There are] a lot of young players with talent, [showing] that talent now over a consistent basis. I think in the past, it was kind of, you'd see flashes. But now, just the atmosphere in this clubhouse, it's great. It's great to be around. You are excited to come to the park, and you know that we have a chance to win every time we come here."
And a big reason for that is Davis, who turned in his third multihomer game of the year to extend his Major League lead to an eye-popping 30 home runs. Davis, an AL MVP candidate, sent a pair of curveballs to opposite parts of the park, tying a career high with five RBIs to raise his season total to 79.
"I don't think it's anything you can predict," said Davis, who has tied Brady Anderson's club record for first-half homers with two weeks to spare. "It's something you obviously work hard toward in the offseason, to try and carry it into Spring Training and then into the season. I'm not going up there to try and hit home runs. I'm just trying to put good swings on good pitches. I think that's the biggest thing. Last night I was a little too aggressive, and it worked against me. Tonight I was a little more patient, and I saw the result of that."
Davis has 54 extra-base hits through 82 games and is on pace for 106, which would break Anderson's record of 92, set in 1996. His 30 home runs by the end of June are the most since Albert Pujols also hit 30 in 2001.
Is manager Buck Showalter running out of superlatives for his slugger?
"I'll let you all do it," Showalter said with a grin. "You're better at it than I am. But Chris knows what we think of him and how proud we are of the year he's having. I think you see a good example of the difference. Yesterday, I think, he had three strikeouts. Today he comes back and puts it behind him. You can see him grinding and working on it. He's not satisfied. He wants to continue to contribute at a high level for his teammates."
The O's got things started in the first inning when Manny Machado scored on Adam Jones' single, the team's third consecutive one-out single. Davis then cleared the bases with a 2-1 moon shot that landed in the Orioles' bullpen and had the team's relievers scattering for cover.
After the Orioles loaded the bases in the third, Chris Dickerson pushed the lead to six runs with a two-run single up the middle that scored Davis and Matt Wieters. That brought up No. 9 batter Ryan Flaherty. Flaherty, who has been heating up at the plate recently, kept the hot streak going with a three-run homer over the right-field scoreboard to chase Phelps from the game and push the lead to nine.
"I've been getting into better counts, and I've been positioning myself to have some more success," said Flaherty, who has four home runs in his last six games. "I've been laying off some pitches that I might have been swinging at before. It's just trying to slow the game down. Once you do that, the recipe for success is more in your favor."
Britton outlasted Phelps but could not complete six full innings for the third consecutive start. The 25-year-old took a shutout into the sixth but surrendered a trio of walks and a pair of runs -- only one earned -- prompting Showalter to go to right-hander Jair Jurrjens.
"It's not like I'm thinking, 'Oh, here's the sixth, and I've got to get out of it,'" Britton said. "You kind of see the light at the end of the tunnel, and you are like, 'Hey, I have a chance to go deep in this game," and I tried to be a little bit too fine, rather than just do what I was doing the first five innings and make them make the adjustment."
After escaping a bases-loaded jam in the first, Britton settled down and retired 10 of 11 before issuing a leadoff walk to Jayson Nix in the fifth. A single and a flyout later, Britton walked Ichiro Suzuki, and rookie Zoilo Almonte's sacrifice fly put New York on the board. Davis' error at first base allowed a second run to score.
"Both times [after scoring], the 5 and the 4, he came back out there and put up a zero," Showalter said. "Zach pitched really well tonight. [It wasn't] anxiety, I think he wanted to get through that sixth inning, I could see it, but he just got out of sync a little bit. I was proud of him. He pitched well."
Jurrjens threw 2 1/3 scoreless innings, allowing Davis to stretch the lead back to nine with a two-run shot off reliever Ivan Nova in the sixth.
"He's not hitting 1.000, but I will say he's having a tremendous year," Yankees manager Joe Girardi said of Davis. "You've got to make your pitches. He has closed up a lot of his holes over the last couple of years, and if you don't make [your pitch] and he gets the barrel of the bat, it's got a chance to be a long home run."
Brittany Ghiroli is a reporter for MLB.com. Read her blog, Britt's Bird Watch, and follow her on Twitter @britt_ghiroli. This story was not subject to the approval of Major League Baseball or its clubs.