Plouffe's big day leads Gibson to win in debut
Plouffe's big day leads Gibson to win in debut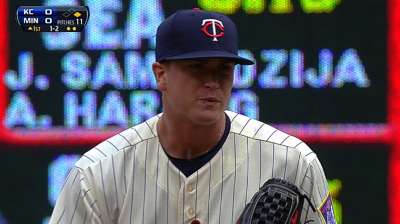 MINNEAPOLIS -- The day had finally arrived. The fans kept asking for it, and on a windy but mild Saturday afternoon in June, Kyle Gibson took the mound for his Major League debut. He had arrived.
And Gibson didn't disappoint. With a 6-2 win over the Royals at Target Field, the 2009 first-round Draft pick became the first Twins first-rounder to win his debut, and the first Minnesota pitcher since Anthony Swarzak in 2009 to claim a victory in his debut.
"He's a pretty calm kid, very sure of himself," Twins manager Ron Gardenhire said. "We've seen that. He kind of did what I was hoping he would do, just go out there and have some fun. You could see the smile on his face. It's not too often when you take a pitcher out of the game and they say, 'Thank you.'"
Gibson worked steadily through six innings, allowing two runs on eight hits. He struck out five and didn't walk a batter.
"It was an amazing day, really," Gibson said. "I was really nervous the last couple days leading up to it and was able to calm my nerves somehow.
"I'm just soaking this one in right now."
"You hear a lot about him," catcher Joe Mauer said. "He's got great pitches and great makeup. He's going to be a good one."
Whether it was in an effort to back up their young new pitcher or not, the Twins' offense came alive early, batting through the order in the first inning.
Royals starter Wade Davis only made it through one inning, plus three batters in the second, and issued five walks -- including three in the first that all led to runs.
With one out in the first, Brian Dozier and Mauer had back-to-back walks. Justin Morneau drove in both with a two-run double that glanced off the glove of Royals center fielder Jarrod Dyson. Trevor Plouffe followed with his sixth homer of the season, a two-run shot to left-center. The homer extended Plouffe's hitting streak to 11 games.
"We need him," Gardenhire said of Plouffe. "We need him to produce. It makes a big difference in our lineup. You can move him up and down a little bit and he makes a big difference."
The first inning still wasn't over. After Wade issued his third walk, to Chris Parmelee with two outs, Pedro Florimon hit an RBI single to bring in Parmelee and give the Twins a 5-0 lead.
Davis threw 53 pitches in the inning -- making for a long wait for the anxious Twins rookie. But for Royals manager Ned Yost, it was a rare sight.
"I've never seen a 50-pitch inning but, then again, we really don't have a long guy, and I was trying to see if I could get him at least through three," Yost said. "But that didn't happen."
The Twins loaded the bases on just three batters in the second -- a Dozier single and back-to-back walks to Mauer and Morneau -- which brought Davis' day to an end. Davis allowed six runs on five hits and struck out two.
"Just off," Davis said. "No release point at all. I was trying to throw it down the middle of the plate and it was running off, a lot of movement. Right to left. It was cutting. It was riding. Just one that I'm going to forget, real quick."
Left-hander Will Smith relieved Davis and made it out of the second inning with only minor damage, as Plouffe hit a sacrifice fly to right, allowing Dozier to score and make it 6-0.
Although Gibson gave a solid effort, he was especially thankful for the early lead.
"It was a big help," Gibson said. "I can't say enough about my teammates going out there and getting a big lead early. It took a lot of pressure off. I was able to make some pitches with a little less finesse to them. ... The two runs that I gave up, not that they were meaningless runs, but the lead definitely allowed those not to be as big of runs."
Smith kept the Twins off the board the next four innings, allowing only three hits while striking out six. He threw 58 pitches in his five innings, 42 for strikes.
The Royals got to Gibson in the third, as Dyson led off with a single and stole second. Two batters later, Alcides Escobar brought him in with an RBI single. Escobar scored on Salvador Perez's base hit, cutting the lead to 6-2.
Kansas City threatened in the eighth, but Minnesota escaped unscathed. Twins left-hander Brian Duensing walked Eric Hosmer to lead off the inning. Right-hander Casey Fien loaded the bases with back-to-back singles to Perez and Mike Moustakas with one out, but he struck out the next two batters to end the threat.
"The last two guys, he got the pitch where he wanted to," Gardenhire said of Fien, who's allowed only one run in 11 outings this month. "He gave up a couple hits and I don't know whether it was a cutter or a slider, the ball stayed up over the middle. The last two hitters, he got the ball going down and away … that's where he needs to get the ball. That's where he's been getting the ball. He's one of our hottest pitchers."
Kelly Erickson is an associate reporter for MLB.com. This story was not subject to the approval of Major League Baseball or its clubs.