Twins shake up lineup to rest sore players
Twins shake up lineup to rest sore players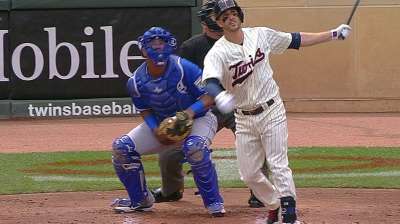 MINNEAPOLIS -- As Kyle Gibson made his highly anticipated debut at Target Field on Saturday, the Twins shook up their lineup as manager Ron Gardenhire tried to accommodate some sore players.
Third baseman Jamey Carroll returned to the lineup after a few days off. It marked his first start since June 21 at Cleveland. Carroll went 2-for-4 in the 6-2 win over the Royals.
With Carroll at third, Trevor Plouffe (batting fifth) filled in as the designated hitter and switched positions in the order with Oswaldo Arcia (batting sixth). Plouffe hit his sixth homer of the year, a two-run shot in a five-run first inning, and had a sac fly in the second, while Arcia was 0-for-4 with two strikeouts.
All of the juggling was in an effort to rest catcher Ryan Doumit -- who caught a game on Friday night for the first time since injuring his ankle Sunday at Cleveland -- and Josh Willingham, who is still nursing a sore knee.
"Moreso than anything else, my other guys are a little beat up here in Willingham and Doumit, just coming off his ankle catching a game last night for the first time," Gardenhire said. "Willingham is a little sore from last night, running around out there in the outfield with his leg. Just trying to figure out the lineup best I could and Jamey needs to play some. It will be good defense. Jamey can pick it over there, I hope, but that wasn't the sole reason just because we're kind of limited in what we've got."
Kelly Erickson is an associate reporter for MLB.com. This story was not subject to the approval of Major League Baseball or its clubs.