Lough turning heads with his defense
Lough turning heads with his defense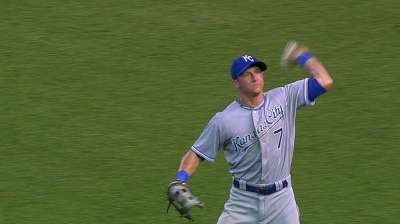 MINNEAPOLIS -- David Lough not only has a solid, near-.300 batting average going for him, his defensive work has been impressive as well.
Prime example: His diving catch of Pedro Florimon's screaming line drive toward the right-field line to save two runs in Friday night's 9-3 Royals victory over the Twins.
"I thought I had a chance all the way. It was a lefty and it tails and sinks. So I just went after it. I was playing straight up and made a good play on it," Lough said. "And then before that I had to run into the gap a little bit for a ball, but it was just normal plays. Right?"
The latter was said with a sly smile, indicative of the 27-year-old Ohioan's sense of humor. He quickly alluded to the other part of his Friday night: 0-for-4 at the plate.
"Something every day," Lough said. "Just like Skip [Ned Yost] says, 'It's all about doing something.' If you don't bring the bat -- and I know my swing wasn't there -- just make something happen for the team. Do something to help us win."
Winning pitcher James Shields certainly has noticed.
"D-Lo has been phenomenal all year on defense. I mean he's made a bunch of great plays, especially behind me," Shields said. "I'm really happy with our defense right now. Our defense is pretty good. It's nice to pitch with that defense behind you."
Lough also has four of the Royals' 20 outfield assists, which was tied with the D-backs for second in the Majors behind Minnesota's 24 entering Saturday's game. Alex Gordon had seven, Lorenzo Cain five, Jeff Francoeur three and Jarrod Dyson one.
Dick Kaegel is a reporter for MLB.com. This story was not subject to the approval of Major League Baseball or its clubs.