Butler matches Bo's homer total with Royals
Butler matches Bo's homer total with Royals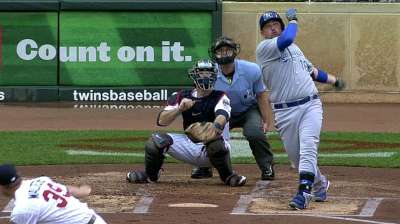 MINNEAPOLIS -- Billy Butler matched Bo Jackson's home run total for the Royals with the 109th blast of his career in the first inning of Friday night's 9-3 win over the Twins. That tied them for 10th on the franchise homer list.
It also ended the second-longest homer drought in Butler's seven years with Kansas City. He had gone 136 at-bats since taking the Angels' Jason Vargas deep on May 14 in Anaheim.
"I was swinging the bat pretty good in between and I happened to run into one," Butler said. "I'm not going up there trying to hit home runs, I'm just trying to drive the gaps and let it happen when it does. It was one of my longer streaks. Probably my rookie year or second year I had one of those, but I was productive in between."
Indeed, in his second season (2008), Butler went 150 at-bats between home runs.
Butler is on a rampage against Minnesota. His three hits on Friday night pushed his 2013 average against the Twins to .519 (14-for-27 with two homers and eight RBIs). He's also done well against them in his career with a .314 average.
"I guess it's the same thing when Joe Mauer is facing us," Butler said of his success against the Twins. "Mauer hits the Royals big time. I don't know -- it's coincidence. I'm just feeling pretty good right now, that's all it is."
Prior to Saturday, Mauer had a .346 career average against the Royals with a whopping 89 RBIs and 10 home runs in 123 games. But this year has been different -- just .194 (7-for-36).
Dick Kaegel is a reporter for MLB.com. This story was not subject to the approval of Major League Baseball or its clubs.