Davis roughed up early, Royals lose to Twins
Davis roughed up early, Royals lose to Twins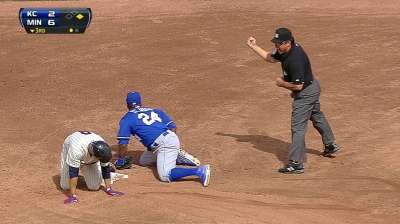 MINNEAPOLIS -- Funny how baseball works. Kyle Gibson, the Minnesota pitcher, was making his Major League debut and he was solid as a rock. Wade Davis, the Kansas City pitcher, was making his 134th big league appearance and he came unglued in the first inning. Go figure.
Anyway, Minnesota's five-run first inning jumped-started the Twins and Gibson to a 6-2 victory over the Royals and Davis as 36,881 fans at Target Field relaxed on a sublime 75-degree Saturday afternoon.
It probably seemed like the longest first inning of Davis' life. For one thing, it involved 10 batters who combined for four hits, three walks and five runs. For another, Davis threw 53 pitches, the most in a Major League first inning in nearly six years.
No pitcher had tossed more in the opening inning since Wandy Rodriguez unleashed 55 pitches for Houston in a seven-run first at Atlanta on Aug. 1, 2007. The Astros lost, 12-3.
"Just off. No release point at all," Davis said. "I was trying to throw it down the middle of the plate and it was running off, a lot of movement. Right to left. It was cuttin'. It was ridin'. Just one that I'm going to forget, real quick."
Davis also faced three batters without getting an out in the second inning, and his total number of pitches for the day was 69. Pitch counts were not kept for most of Major League history, but Elias, the official MLB statistician, reports that Davis' 69 pitches in one official inning (three outs recorded) were the most in the last 10 seasons.
"Awful outing," Royals manager Ned Yost said.
Rather historic, actually. According to Elias, the only other pitcher from 2004-13 with 65 or more pitches in an official inning was the Royals' own Brian Bannister, who threw 65 on Aug. 17, 2008, at Yankee Stadium. Bannister faced 10 batters in the first inning, when he got the three outs, and six more batters in the second before being relieved. He was charged with 10 runs in a 16-5 loss to the Yankees.
Davis tried everything to get straightened out.
"I tried a bunch of different things," he said. "Tried slowing it down, speeding it up. Different arm angles. It just one of those things that stinks -- coming off a couple of good outings, feeling really confident and coming out and putting the team in a bad spot like that."
The big blow against Davis was a two-run homer by Trevor Plouffe into the center-field bullpen. That scored Justin Morneau, who had just unloaded a two-run double off the glove of Jarrod Dyson in deep center.
"That's got to be caught. Anything that hits in my glove, I feel like it's got to be caught," Dyson said. "It was hit pretty good, but there's no excuse for not catching it."
Later, a flare single by Pedro Florimon fell just in front of Dyson to score the fifth run of the inning.
"It was kind of tough to see and it was just dying on me," Dyson said. "They had a lot of white shirts back there and it wasn't hit too hard, just a flare that kind of died."
When the Twins loaded the bases on a single and two walks with no outs in the second inning, Davis was pulled in favor of lefty Will Smith. He got three quick outs on a sacrifice fly and a double-play comebacker, but the Twins had a 6-0 lead.
All of which must have been comforting to Gibson, the Twins right-hander who was just up from Triple-A Rochester. On his first pitch, Alex Gordon flied out to left and, on his eighth pitch, Eric Hosmer roped a two-out single off the right-field wall.
But Gibson, a University of Missouri product, got through two scoreless innings before giving up two runs in the third. Those were produced with four singles by Dyson, Alcides Escobar, Hosmer and Salvador Perez.
That's all the Royals could get off Gibson, who worked six innings before left-hander Brian Duensing took over.
"He's a pretty calm kid, very sure of himself. We've seen that," Twins manager Ron Gardenhire said. "He kind of did what I was hoping he would do, just go out there and have some fun. You could see the smile on his face. It's not too often when you take a pitcher out of the game and they say, 'Thank you.'"
Gibson gave up eight hits with no walks and five strikeouts.
"It's tough to judge a guy in his debut -- you're going to be nervous, excited, whatever," Hosmer said. "But he was good. He was pounding strikes, he was poised for the most part. He's got good stuff."
Meantime, Smith was superb in relief for the Royals. He got through five innings, giving up three singles and no walks with six strikeouts. He accomplished that in 58 pitches, 11 less than Davis used in his one-plus inning. Luke Hochevar finished up with two scoreless innings.
The Royals loaded the bases with one out in the eighth. Duensing issued a walk and was relieved by Casey Fien, who got an out followed by singles from Perez and Mike Moustakas. But Fien recovered by striking out both Lorenzo Cain and Miguel Tejada.
Closer Glen Perkins worked a perfect ninth and Gibson, after his first game, was 1-0 for his career.
"It was an amazing day, really. I was really nervous the last couple days leading up to it and was able to calm my nerves somehow," Gibson said. "I'm just soaking this one in right now."
Davis, though, was just trying to forget a very miserable, 69-pitch, one-inning outing.
"That was a long one," Davis said. Or short, depending on how you looked at it.
Dick Kaegel is a reporter for MLB.com. This story was not subject to the approval of Major League Baseball or its clubs.