Royals' power surge a rarity for club
Royals' power surge a rarity for club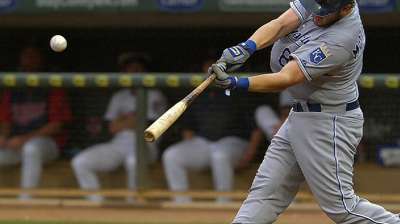 MINNEAPOLIS -- It had been a while since the Royals hit four home runs as they did on Friday night.
Eric Hosmer's two and one each by Mike Moustakas and Billy Butler in the 9-3 victory over the Twins were the first four in a game since Aug. 11, 2012, at Baltimore. That night at Camden Yards, Alex Gordon belted two and Salvador Perez and Butler each had one in a 7-3 win.
The two by Hosmer marked the first multi-homer game by a Royals player this season.
The club record for home runs in a game is six, accomplished twice, both on the road.
On May 21, 2003, at Seattle's Safeco Field, Carlos Beltran hit two homers with Angel Berroa, Joe Randa, Michael Tucker and Raul Ibanez also connecting in a 14-5 victory.
On July 14, 1991, at Detroit's Tiger Stadium, Mike Macfarlane and Brian McRae each hit two homers with Todd Benzinger and George Brett each getting one in an 18-4 win.
Dick Kaegel is a reporter for MLB.com. This story was not subject to the approval of Major League Baseball or its clubs.