This 1 goes to 11: Wainwright ties for NL wins lead
This 1 goes to 11: Wainwright ties for NL wins lead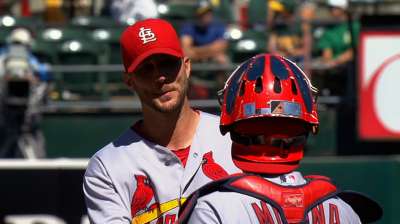 OAKLAND -- The text arrived on catcher Yadier Molina's phone on Saturday morning, sent from Adam Wainwright, who was preparing for an afternoon start against the A's. One note in particular -- that Oakland had swept five of its last six series at home -- had caught the veteran right-hander's eye.
And so Wainwright started typing, informing Molina that "they're not sweeping us." Hours later, Wainwright backed up the proclamation with relative ease.
Wainwright starred in front of a sellout crowd of 35,067 at O.co Coliseum, delivering his fourth complete game of the season as the Cardinals cruised to a 7-1 victory over the A's. Behind him, the offense awakened in the middle innings, led by Matt Adams' first career multi-homer game.
"Stopper is the guy who gets you out of a bad run when you really need a lift, and that was [Wainwright] today," manager Mike Matheny said. "It wasn't that bad of a run, but still, we needed it today."
The Cardinals entered the game having lost five of their last six and trailing the Pirates in the National League Central. The night before, Oakland knocked starter Shelby Miller from the game in the second inning.
"We really needed this game," Molina said. "I'm glad that we got a lot of runs for Adam to be supported. He did his part."
Wainwright took the mound having lost two straight, the most recent loss coming last Sunday. After that defeat, Wainwright verbally challenged Matheny's postgame assessment that it was time to take him out of the game in the seventh inning because he was laboring. Wainwright ended up watching the Cardinals lose from the dugout.
This time, Matheny left the game in the hands of his ace, giving Wainwright the opportunity to work out of the only jam he faced. Wainwright closed a 21-pitch eighth by stranding two. Trevor Rosenthal was warming up at the time and would have perhaps entered had one more batter reached in the frame.
"It's going to be close," Matheny said. "I would have gone out and probably have a conversation because … "
Matheny paused, smiled and then, tongue in cheek, added: "He was laboring from the first."
It was, of course, some pointed fun at the controversy stirred earlier in the week from his use of the word "laboring."
"[Laboring] just means working, right?" Wainwright said in response. "I was working."
Actually, the work was fairly limited until that point, as Wainwright was as efficient as Miller wasn't on Friday. He threw only 112 pitches as he tossed his 15th career complete game.
Though Wainwright lost his hold on a third season shutout in the eighth, he became the first pitcher in the Majors to throw four complete games this season. All four, coincidentally, have come on Saturdays.
"If you start the game, you want to throw the last pitch, too," Wainwright said. "Luckily, I was able to get ahead early, get some quick innings and keep my count down."
The A's were unable to advance a runner to second against Wainwright through the first seven innings and had two of their first four baserunners erased on double plays. Much of Wainwright's early success was predicated on the liberal use of his curveball. Having seen the A's struggle to pick up Joe Kelly's breaking ball on Friday, Molina told Wainwright before the start that he wanted to lean heavily on the pitch.
Three of Wainwright's eight strikeouts came on his curve.
"That breaking ball was starting in the sky and falling to the ground," Molina said. "That was a good pitch for us tonight."
The only burst of life from Oakland's offense came in the eighth. Josh Donaldson doubled and scored on Josh Reddick's single to foil Wainwright's shutout bid. Wainwright stranded runners on the corners by striking out Seth Smith to end the frame.
Wainwright tied the Nationals' Jordan Zimmermann for the National League lead in wins with 11 and finished with eight strikeouts, pushing his season total to 114. He has walked only 12.
"He's not going to be a guy to overpower you, but he's a very intelligent pitcher," Donaldson said.
A day after going down quietly against starter Bartolo Colon, the Cardinals' offense had another subdued start. Oakland's Jarrod Parker retired 11 of the first 12 batters he faced before giving up a two-out double to Allen Craig in the fourth. As Craig cruised into second, Parker fell to the ground, grabbing his right leg. Minutes later, he was on his way to the dugout with what was later announced as hamstring tightness.
The Cardinals capitalized on Parker's exit, knocking around an Oakland bullpen that had allowed 15 earned runs in its last 24 innings. The club scored its first run without recording an official at-bat in the fifth. After walking Adams, A's reliever Jesse Chavez hit David Freese in the shoulder. Both runners advanced on a sacrifice bunt before Daniel Descalso's sacrifice fly scored Adams. Matt Carpenter's two-out single padded the lead.
The game then opened up in the sixth. Carlos Beltran, Craig and Matt Holliday strung together three straight hits, the latter of which plated the team's third run. Facing left-hander Jerry Blevins, Adams teed off on a first-pitch slider for a three-run homer. It was Adams' fifth homer of the season and the first off a lefty in his career.
"It was a big situation right there with runners on first and second and nobody out," Adams said. "I was just trying to get a pitch elevated to move the runners into scoring position for Freese. He left the ball up and I put the barrel on it."
The first baseman capped his afternoon with a solo blast in the eighth.
"Big day for Matt," Matheny said. "He's just got some different power. It's a lofting power that you don't see every day. He has a nice approach, and when he doesn't start overthinking it, he has a real nice idea at the plate."
Jenifer Langosch is a reporter for MLB.com. Read her blog, By Gosh, It's Langosch, and follow her on Twitter @LangoschMLB. This story was not subject to the approval of Major League Baseball or its clubs.