Missed chances snuff out four-game win streak
Missed chances snuff out four-game win streak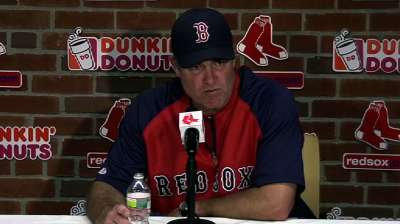 BOSTON -- Frustrated by their inability to put runs on the board for much of Saturday's contest against the Blue Jays, the Red Sox pushed the envelope a couple of times in the late innings on Saturday, but that backfired also.
The missed opportunities -- not to mention a dominant all-around performance against them by Jose Bautista -- haunted the Sox in a 6-2 loss to Toronto in front of a packed house of 37,437 at Fenway Park.
Bautista had just padded the Jays' lead to 2-0 with the first of his two homers on the day, and No. 200 of his career, when Boston came to bat in the sixth.
Finally, the Red Sox looked to have some life offensively. Shane Victorino led off with a double. Up stepped Dustin Pedroia, who stung a ground single to right.
With David Ortiz looming, perhaps a conservative approach could have been taken by third-base coach Brian Butterfield.
Instead, Butterfield challenged Bautista to make a great play. And he did, throwing an absolute bullet to the plate to nail Victorino.
"Sometimes you have well-laid plans and your eyes tell you something different," said Butterfield. "You try to go through the year without having too many 'I'd like to have that one back.' The fewer of those, the better. That's the nature of the beast.
"I would like to have that one back. There were no outs, we were in the position in the lineup where it was in our favor. Sometimes when you see the ball in play, regardless of your plans, you see something different with your eyes. In that case, I made a bad decision."
Victorino, an aggressive player by nature, had no qualms with his third-base coach.
"It was a great throw. It's a tough situation there," Victorino said. "Obviously we're going to be aggressive and stay aggressive. You've got people who are gonna say, 'It's your four-hole hitter with the meat of your lineup coming up', but as I told Butterfield, 'Hey it's a decision you make, and I'm going.'
"You never know. It takes a lot. Bautista made a good throw. We know he's got a great arm. So we tip our hat. Plays like that change scenarios, but we were able to come back and tie the game. Let's look at that as the positive side of things. Unfortunately we lost the game, but credit to us showing resiliency and coming back tying that game. Unfortunately we weren't able to pull it off."
Butterfield is known for his thorough preparation and exhaustive attention to detail, which is why manager John Farrell wasn't about to second-guess him.
"We're looking for any ways to score," said Farrell. "We left some opportunities out there. I have no question with the decision on Brian Butterfield. I'll live and die with every decision he makes at third base. He's an outstanding third-base coach, and he forced him to throw a 260-foot strike, and he did."
And even if the Sox wound up not scoring in that sixth, they still had a chance to win the game.
After a single by Jarrod Saltalamacchia to lead off the seventh, Jose Iglesias dropped down a perfect bunt single. Second baseman Maicer Izturis made an error on the play, giving the Sox runners at the corners with nobody out.
Instead of calling on pinch-hitter Jonny Gomes, who drove in the go-ahead run in that situation on Friday, Farrell stayed with Jonathan Diaz, who was making his Major League debut. Diaz dropped down a safety squeeze against 42-year-old lefty Darren Oliver, but Saltalamacchia was thrown out at the plate.
"We're looking to force Darren Oliver to move off the mound, and he makes a do-or-die play, barehands it, throws it sidearm," said Farrell. "Fortunately for them, he throws a strike for them to cut down Salty at the plate. We're looking to stay out of the double play. First and third, safety squeeze is typically when it's executed. A high percentage play."
Butterfield also had a good look at that play.
"Great play by Ollie," said Butterfield. "Ollie's older than I am, so I didn't expect him to be able to make that play. But it was a great play. Not a bad bunt by Jonny. Salty and I just spoke about the break that he got. In that situation, sometimes when you try something like that with a safety squeeze, it opens up a lot of other things. They try to get too aggressive with a play at the plate; the next thing you know, you have multiple runners and you're in business for a big inning. It didn't work out today, but I'll take that one."
Why not hit Gomes? One reason is that he is 0-for-5 lifetime against Oliver.
"Didn't want to sacrifice defense in the seventh inning," said Farrell. "That was the play right there. There were a couple of options. And knowing what Jon Diaz is capable of doing, and that's one of them, a very good bunter, that was the choice made."
Despite that run being cut down, the Sox still rallied back.
Jacoby Ellsbury laced a single to left, loading the bases. Victorino came through with a two-run single up the middle against right-hander Steve Delabar to tie the game at 2.
In the eighth, Farrell turned to Junichi Tazawa, who has come up big for the Red Sox numerous times this season.
However, for whatever reason, it seems like Tazawa's mishaps are always against the Blue Jays.
He came on and gave up a single to Jose Reyes, and then a towering two-run shot to left-center by Bautista, which gave the Jays a 4-2 lead.
Coming into the game, Bautista had just one homer in his last 56 at-bats.
"I had a good day in the cage and good BP, so I felt like I had more rhythm than days past," Bautista said. "I was able to lay off some tough pitches and get the ones over the plate. And when I swung, I didn't miss them, so it was a good day."
Against the Blue Jays this season, Tazawa is 1-3 with a 10.13 ERA in six games.
"I know the fact that I'm giving up some runs against Toronto," Tazawa said. "Maybe I'm pressing a little bit. I'll try to get back at them. I don't think it's a certain lineup. They certainly do have really good hitters. But I feel confident if I pitch the way that I can I can get them out."
Felix Doubront gave the Red Sox a solid start, going 6 1/3 innings and allowing five hits and two runs.
The loss snapped a four-game winning streak for Boston.
Ian Browne is a reporter for MLB.com. Read his blog, Brownie Points, and follow him on Twitter @IanMBrowne. This story was not subject to the approval of Major League Baseball or its clubs.