White Sox miss opportunities in loss to Tribe
White Sox miss opportunities in loss to Tribe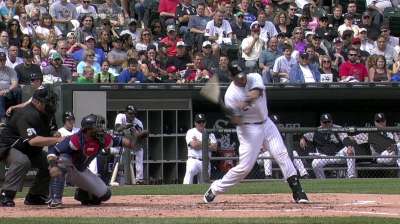 CHICAGO -- There's good luck. There's bad luck. And then there's the 2013 White Sox luck, bordering on utterly dreadful in the month of June.
During a 4-3 loss to the Indians on Saturday afternoon before 26,289 at U.S. Cellular Field, Jesse Crain had his streak of 31 straight games and 31 straight innings without allowing an earned run snapped by a one-out Nick Swisher single up the middle.
Of course, that rare run scored off the White Sox All-Star caliber reliever came in the eighth inning and broke a 3-3 deadlock. It sent the White Sox to their fourth straight loss, a 4-12 record over their last 16 games and a season-worst 14 games under .500 at 32-46.
Good teams make their own breaks, as the age-old sports adage goes. Through almost half of this current campaign, the White Sox have not been a good team.
"All year, it's been frustrating," said White Sox starter Dylan Axelrod, who picked up a no-decision with his six innings of work. "We've lost a lot of close games. It's been real close to being, who knows, we could be the other way around if the little breaks were going our way."
"They get to a guy [like Crain] ... [who] hasn't given up a lot," said White Sox manager Robin Ventura of the Indians. "That's something that's impressive."
Not giving up a lot is an understatement when talking about Crain (2-3), who exited with a 0.74 ERA after one inning of relief. Crain allowed a run at home for the first time since Aug. 21, 2012, against the Yankees.
None of the singles by Asdrubal Cabrera, Jason Kipnis or Swisher were hit especially hard. In fact, the best contact of the inning came on Michael Brantley's line drive headed for the right-center gap, which Gordon Beckham turned into an inning-ending double play through his leaping catch and flip to shortstop Alexei Ramirez.
Those hits were enough to drop the White Sox to 0-6 against the Indians (43-38) this season when the bullpen records the decision and 2-0 when a starter factors into the decision.
"[An] 0-2 breaking ball off a guy like Crain, who I think has got like [an] 0.40 ERA, right now," Swisher said. "I'm happy with a big knock, kind of a jam-job base hit. To be able to string three hits back-to-back-to-back like that was crucial for us."
"You know, that was kind of a tough inning," White Sox catcher Tyler Flowers said. "It would be one thing if they were barreling up balls and giving up a run that way. That's just how it goes sometimes."
A rare blip from Crain produced the go-ahead run. But it was the White Sox lack of clutch hitting against Cleveland starter Ubaldo Jimenez that made this late rally possible. They worked Jimenez's pitch count up to 112 over five innings, but could only manage three runs.
Flowers' double brought home Conor Gillaspie with the game's first run in the second. The White Sox added two more in the fifth on run-scoring singles by Gillaspie and Dayan Viciedo.
Viciedo knocked out three hits and made two diving catches in left field, one day after being benched after the eighth inning of Friday's first of two losses when he didn't run hard all the way through an attempt to score on Jeff Keppinger's single to center. Friday became a learning experience for the White Sox left fielder, leading up to Saturday's moments of redemption.
"Errors do happen, but the mentality that you have to have -- and I have -- is that an error can happen, but you can't let it happen a second time," said Viciedo through translator and director of public relations Lou Hernandez. "I am younger, and I have to learn from those mistakes. You can't let them happen again."
"[Viciedo is] fine," said Ventura. "It's just one of those [games where], energy-wise, he was up and ready to go. I think swinging the bat, he was a lot better, too. There was just something that seemed a little calmer with him."
Jimenez struck out eight but walked four and gave up nine hits. The White Sox stranded two in the first, two in the second, two more in the third and left the bases loaded in the fifth when Flowers took a called third strike.
Axelrod gave up three runs on five hits over six innings and 111 pitches. He was in position for victory, even with those missed opportunities, until Kipnis launched a game-tying, two-run homer in the sixth. Kipnis has reached base 11 times in the first three games of this series, including two hits on Saturday, and his long ball marked the third straight game in which the White Sox have surrendered a lead against the Indians.
"It was really just one pitch where he got me," said Axelrod, who fanned three and walked three. "So I feel like, all in all, it was a step in the right direction for me, and I pitched pretty well."
For the month of June, the White Sox have just three victories from their starting pitchers. Then again, they have just eight wins as a team during the month against 18 losses.
"Yeah, it's not as fun as winning. I know that," said Flowers, whose team has a 12-18 mark in one-run games. "We just have to keep grinding it out, and come to work every day ready to work hard and play hard. I think we are doing that. We are just not winning."
Scott Merkin is a reporter for MLB.com. Read his blog, Merk's Works, and follow him on Twitter @scottmerkin. This story was not subject to the approval of Major League Baseball or its clubs.