Swisher delivers again as Tribe downs Sox
Swisher delivers again as Tribe downs Sox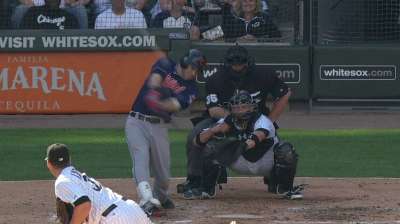 CHICAGO -- Indians first baseman Nick Swisher is torching the best of what the White Sox bullpen has to offer.
On Friday night, Swisher smashed a go-ahead home run in the ninth inning to hand Chicago closer Addison Reed his fourth blown save of the year. He did it again on Saturday, breaking up reliever Jesse Crain's run of 31 straight appearances without allowing an earned run by knocking in Asdrubal Cabrera in the eighth inning to give the Indians a 4-3 win at U.S. Cellular Field.
"It's that never-die attitude," Swisher said. "I just feel like we keep fighting. We keep doing our thing. This is a good squad."
The Indians wouldn't die after Trevor Bauer surrendered five runs in the first inning of Game 1 of Friday's long doubleheader. They wouldn't go away after the White Sox challenged the depth of their bullpen in Game 2. Then, when runs were hard to come by on Saturday, the Indians still found a way to string three straight singles together in the eighth, with Swisher jamming the last one just past the infield to score Cabrera from second.
It was strange to see runs become scarce, after the seven-hour-53-minute twin bill on Friday, which saw the Indians score 28 runs in their two come-from-behind wins. Both teams had to grind out runs on Saturday, but eventually Swisher ended up finishing off his former team yet again.
But Swisher didn't want to talk about his heroics on Saturday. He wanted the focus to fall on Indians reliever Joe Martinez, who picked up his first Major League win since 2009 after pitching two scoreless innings of relief. He replaced starter Ubaldo Jimenez, who was done after throwing 112 pitches over five innings. Martinez never let the pressure get to him.
"I thought he really clutched up," Indians manager Terry Francona said. "That's not the easiest situation to be put into. And I know it's not his first time in the big leagues, but he's been starting every five days. He comes in with the game on the line and he knows he's going to have to pitch. It's not like there was a safety net there. He did really well."
Martinez was with Triple-A Columbus last night, traveling from Norfolk, Va., to Durham, N.C., for his next Minor League game when he found out the Indians desperately needed relief help and he'd be the one to provide support. While Martinez has been starting in the Minors, his last Major League appearance was with the D-backs as a reliever last season. He threw one inning before getting sent back down, and he did everything on Saturday to convince Francona to let him stay.
"More than anything, I'm super excited for big Joe Martinez getting his first win of the year," Swisher said. "Him coming up, it's great, man. It's awesome."
The White Sox headed into the sixth inning with a 3-1 lead, after starter Dylan Axelrod had mostly quieted the Indians' lineup. But there's been no stopping the Tribe's Jason Kipnis during this series.
Not only has Kipnis reached base 11 times through the first three games, the Northbrook, Ill., native smacked his 12th home run of the season on a first-pitch offering from Axelrod with Michael Bourn on first in the sixth to even the game at 3. The second baseman is now 6-for-9 with six RBIs in the weekend set. He also reached base for the 32nd consecutive game.
"For me, [Kipnis has] done that for a couple of years," White Sox manager Robin Ventura said. "He's a good player, he plays hard, he's always kind of in the middle of everything that goes on over there. It's not a surprise to be impressed by him."
Indians starter Ubaldo Jimenez let the White Sox sniff a big inning a few times but never let the South Siders break open a scoring run that would push the game out of reach. Chicago had runners in scoring position in each of the first three innings, but Jimenez only allowed a second-inning RBI double to Tyler Flowers over that span.
Jimenez struck out Adam Dunn and Jeff Keppinger with runners on first and second in the first inning, and induced a popup and a strikeout with runners on second and third in the second. He then got the groundball he needed in the third with Chicago once again threatening.
"You know what, he limited damage," Francona said. "It was a high pitch count, and he didn't get as deep into the game as we hoped, but he gave us a chance to win."
Axelrod faced one batter above the minimum through the first three innings, but eventually Cabrera tied the game at 1 on a 3-2 pitch that he took deep for his sixth home run of the year. The right-hander threw six innings and allowed three runs to pick up his sixth-straight no-decision.
Chicago sent eight batters to the plate in the fifth, but only cashed in twice in the inning on back-to-back RBI singles by Conor Gillaspie and Dayan Viciedo. Jimenez walked Gordon Beckham with two outs to load the bases, but he battled back to strike out Flowers to end the inning. Jimenez left the game after giving up three runs and striking out eight, but he once again couldn't give the Indians much length. He was replaced after throwing his fifth straight start in which he couldn't make it past the sixth.
After Martinez preserved the lead, Indians closer Chris Perez came into save the game with a 1-2-3 ninth inning. It was his first save since returning from the disabled list on Thursday, even though he appeared in the ninth in the first game of Friday's doubleheader. Francona said the fact his closer could throw on back-to-back days was an important sign of his recovery.
While the Indians leaned on their bullpen, their offense has come through to back shaky starting pitching through the first three games of the series. Cleveland will have a chance to sweep Chicago on Sunday and continue to frustrate its division rival.
"[The White Sox have] good relievers," Kipnis said. "Maybe we're just catching them when they're due, I don't know. But these are good relievers. Like I said, it comes down to our lineup. One through nine, it's a tough lineup. It's a deep lineup."
Ethan Asofsky is an associate reporter for MLB.com. This story was not subject to the approval of Major League Baseball or its clubs.