Kelly's strong relief not enough after early hole
Kelly's strong relief not enough after early hole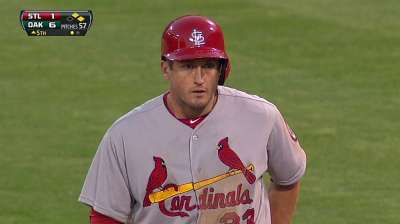 OAKLAND -- After 59 days of owning the top spot in the National League Central, the Cardinals ceded the division lead on Friday while falling, 6-1, during their first visit to Oakland since 2007.
The loss, which came in front of 24,208 at O.co Coliseum, was pinned on Shelby Miller, who endured the shortest start of his career as well as one of the more taxing. His inability to get through the second inning set the tone for the Cardinals' fifth loss in their past six games.
In the meantime, the Pirates have won seven straight to leapfrog a St. Louis club that has been treading water for much of the month. Since going a Major League-best 20-7 in May, the Cardinals have played at a .500 mark.
Joe Kelly is not officially slated to join the Cardinals' rotation until July 6, but he might as well count himself a member now. Last Friday, Kelly was needed to cover five innings after a 1 2/3-inning start by Tyler Lyons. Kelly threw 77 pitches in that appearance.
A week later, Miller, too, lasted a mere 1 2/3 innings, leaving Kelly to follow with a 79-pitch relief appearance that took the Cardinals to the eighth. Kelly allowed only one run -- a solo homer to Stephen Vogt, who was 0-for-32 in his career before leading off the fourth with the blast -- but the damage done before Kelly's entrance was too much for the Cardinals to overcome.
"Any role they throw me in, I try to be ready," Kelly said. "Like I said before, you never know what's going to happen being the long guy for now until I get a start. The first inning, the sixth inning, with a lead, with no lead, I just have to be on my toes every time. I'm getting used to it, though. I feel comfortable."
Though Kelly calmed Oakland's lineup and preserved the 'pen from having to carry too heavy of a workload, the Cardinals' offense never peeled away the early deficit.
Miller got through the first inning -- a frame that has given him fits throughout the season -- on just 10 pitches. The rookie right-hander then labored in the second inning. He threw 51 pitches in the frame without being able to finish it.
"Every single fastball I threw as a strike was right down the middle of the plate," said Miller, whose ERA rose to 2.79. "They were just good pitches to hit. This is really, really disappointing. I just didn't have it today."
A one-out single by Josh Donaldson pushed across the first of five runs the A's would score off Miller in the second. The Cardinals had an opportunity to record an out on the play but muffed it when Matt Adams bobbled the ball after cutting off Jon Jay's throw to home. Had Adams made the glove-to-hand transition seamlessly, he had a good shot to throw out Donaldson advancing to second.
Josh Reddick followed Donaldson's seven-pitch at-bat with a seven-pitch one of his own. He ended it with an RBI double. Miller loaded the bases with a pair of two-out walks. Seth Smith's single to center drove home two. Jed Lowrie capped the scoring with an RBI ground-rule double.
Manager Mike Matheny said he left Miller in as long as he did thinking the rookie would pitch himself out of trouble. Instead, he watched as the A's batted around against the right-hander. It was at that point that Matheny summoned Kelly.
"There are going to be tough times where they have to push through and figure out how to still get outs," Matheny said. "He's been throwing the ball well as a whole, and we'll see how he works through this now."
Of the nine batters Miller faced in the second, six saw at least six pitches in their respective at-bats. The 51 pitches Miller threw were the most by a pitcher in an inning this season.
"As a former catcher I know it gets pretty frustrating when guys get to 3-2 and continue to foul pitches off, foul pitches off," Donaldson said. "And then when you throw a pitch over the plate [and] it gets smacked, you kind of start second-guessing what you're doing."
This marked the first time in Miller's 16 starts this year that he hadn't pitched through the fifth. He has, however, labored of late. Miller has surrendered at least four runs in three of his past four starts, after giving up just 16 over his first 75 1/3 innings. A lack of fastball command has been the culprit behind many of his issues during that stretch.
After comparing recent video of himself to that from earlier this year, Miller believes he has identified at least one issue.
"I feel maybe I'm a little quicker to the plate out of the windup," Miller said. "Coming out of the windup, I don't think it feels as smooth. ... [My] mechanics probably aren't exactly the same, but they're not that far off. I'm just going through a hard time right now trying to throw strikes. And it's just not working right now."
While the A's battered Miller, the Cardinals' lineup had no answer for 40-year-old Bartolo Colon. Colon earned his eighth straight win while holding the Cardinals to one run in eight innings. He retired the first 13 hitters of the game before walking Matt Holliday, who was making his first visit to Oakland since the A's traded him to St. Louis in 2009.
Adams and David Freese followed with consecutive singles to push Holliday home. The Cardinals collected only four other hits -- all singles -- over the remainder of Colon's outing.
"He's given everybody trouble because he's making good pitches," Matheny said. "He has good late movement and is deceptive. And he's not making a lot of mistakes in the middle of the plate."
Jenifer Langosch is a reporter for MLB.com. Read her blog, By Gosh, It's Langosch, and follow her on Twitter @LangoschMLB. This story was not subject to the approval of Major League Baseball or its clubs.