Colon collars eighth straight win as A's cruise
Colon collars eighth straight win as A's cruise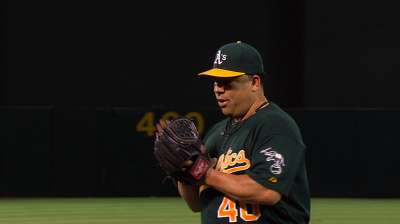 OAKLAND -- If there's a gripe to be made from the A's 6-1 win against the Cardinals, it's the timing of an offensive outburst that featured five hits and 10 plate appearances in a five-run second inning.
Such an output no longer seems necessary when Bartolo Colon heads to the mound for the A's (47-34), who earned their best record after 81 games since 1992 and stayed within a half-game of the Rangers in the American League West.
Why prolong the inevitable? Give Colon an inkling of support, and he's inclined to take care of the rest.
On Friday night at O.co Coliseum, the right-hander -- undefeated since turning 40 on May 24 -- won his eighth straight game to become just the second A's pitcher since 1991 to record 11 wins before the end of June.
"I don't expect anything less now," Josh Donaldson said. "He's just one of those guys who goes out there and gives us a chance to win. He's been dominant. It hasn't even been a question."
Colon fired a barrage of quivering fastballs that danced around the strike zone for eight innings of one-run ball but said he added more curveballs and changeups into the mix than he has in past outings. The result was the same, as he lowered his ERA to 1.37 during the winning streak and finished the night with five strikeouts and just one walk to maintain his status as the AL pitcher with the fewest free passes allowed per nine innings with 1.10.
Colon was untouchable until the fifth inning, when he lost a perfect game, no-hitter and shutout in consecutive at-bats. But the danger ended there, as he wiped away singles in the sixth and eighth innings by inducing double plays both times from Yadier Molina -- batting a National League-best .352 on the season -- with sinkers down and in.
"He's a guy who really doesn't put himself on the run when there are guys on base," A's manager Bob Melvin said. "He's got such good movement, he keeps the ball off the barrel of the bat and knows he's one pitch away from getting a ground ball and getting out of an inning like that."
"It was really special," catcher Stephen Vogt added. "He was moving his fastball in and out, throwing changeups and sliders when he wanted to. It's neat to catch a guy like Bartolo, let alone to have him throw like he did tonight."
Vogt, playing in just his third game since his callup this week, was productive on the offensive end as well, notching his first Major League hit after an 0-for-32 start to his career dating to last season with the Rays. It also served as his first Major League home run, as the ball cleared the right-field fence for an inconsequential insurance run in the fourth.
The brunt of the damage, however, occurred in the second, when left fielder Yoenis Cespedes opened and closed the inning for the A's, leading off the frame with a single and capping it with a liner straight to the shortstop. But in between, it was a showcase of patience and fortitude that saw five of the seven A's who reached base do so after working the count to 3-2.
"As a former catcher, I know it gets pretty frustrating when guys get to 3-2 and continue to foul pitches off," Donaldson said. "And then when you throw a pitch over the plate [and] it gets smacked, you kind of start second-guessing what you're doing."
Donaldson singled up the middle to drive in the game's first run and scored from second on a double from Josh Reddick in the next at-bat. Jed Lowrie's ground-rule double in the inning increased his RBI total to six over his past seven games to go along with seven runs scored in that span. He's 13-for-28 during that stretch.
The offensive onslaught came at the expense of rookie right-hander Shelby Miller, who lasted just 1 2/3 innings for the Cardinals despite entering the contest 8-5 with a 2.35 ERA and hopes of an All-Star Game appearance. His 61-pitch flop at the hands of the A's may have eliminated him from the conversation, while All-Star dark horses Donaldson and Lowrie improved their resumes by combining to go 3-for-6 with two walks and two RBIs.
"I struggled in the second inning, threw a lot of pitches and fell behind in the count," Miller said. "I just didn't have it today."
"If you've watched our team throughout the entire year, when guys are throwing pitches early, especially over the plate, you get swings," Donaldson said of the A's patience at the plate. "I don't think our approach is ever to go up there and take. It's more get a pitch that we can drive, and if it's not there, we're not going to swing."
Swinging or taking, it didn't make much of a difference for the Cardinals against Colon on Friday. Of the 29 batters he faced, 22 were presented with first-pitch strikes, with 70 of his 101 pitches going for strikes as well.
As for those 11 wins before the All-Star break -- tied for second-most in the Majors -- Colon hasn't had that many since 2005, when he won the AL Cy Young Award with the Angels.
Jeff Kirshman is an associate reporter for MLB.com. This story was not subject to the approval of Major League Baseball or its clubs.