Cuddyer extends hit streak to 25 with homer
Cuddyer extends hit streak to 25 with homer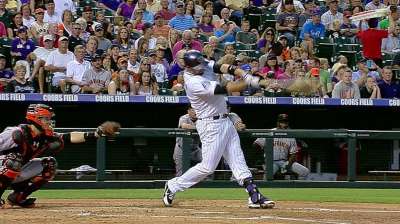 DENVER -- Rockies outfielder Michael Cuddyer extended his hit streak to 25 games with power -- a two-run homer in the third inning of Friday night's game with the Giants at Coors Field.
Cuddyer gave the Rockies a 3-0 lead by knocking a 2-0 cutter from Giants starter Barry Zito into the right-field seats. It was Cuddyer's 14th homer of the season, and his sixth during his streak. Wilin Rosario, the next hitter, made it 4-0 with a homer to left field.
Cuddyer's streak is longest in the Majors since Jose Reyes, then with the Marlins, delivered hits in 26 consecutive games from July 13 to Aug. 8, last season. Cuddyer earned the club record on Thursday, when he went 3-for-4 to surpass a 23-game streak by current Rockies hitting coach Dante Bichette in 1995.
Manager Walt Weiss has approached the streak with the same day-by-day, low-key approach that Cuddyer has displayed.
"He's still going, so I'll congratulate him when it's all over," Weiss said before Friday night's game. "I'll congratulate him on 57."
The reference, of course, was to Joe DiMaggio's record 56-game hit streak in 1941. The record is considered one of the toughest to break in baseball. The National League record belongs to Pete Rose, who hit in 44 straight games with the Reds in 1978.
Cuddyer also owns the club record for consecutive games having reached base safely, 44. It is the longest such streak in the Majors this season.
Going into Friday, Cuddyer was batting .351, second in the National League to the Cardinals' Yadier Molina (.357).
Overall, Cuddyer has hit safely in 50 of his 56 starts this season.
In his second year with the Rockies after spending the first 11 seasons of his career with the Twins, Cuddyer has become an important player to the team, but has not registered nationally in popularity, at least when measured by All-Star voting. He is nowhere near the top among NL outfielders.
"His numbers probably speak louder than anything else, and his value to our club, specifically," Weiss said. "The way he's performed probably speaks volumes. Everybody knows 'Cuddy' that's been around him and has played against him, what a true pro he is, how he shows up every day.
"This year he's been extremely productive. It's a pretty easy case to make, him being in the All-Star Game."
Thomas Harding is a reporter for MLB.com. Read his blog, Hardball in the Rockies, and follow him on Twitter @harding_at_mlb. This story was not subject to the approval of Major League Baseball or its clubs.