Angels weather storm to earn rare win vs. Astros
Angels weather storm to earn rare win vs. Astros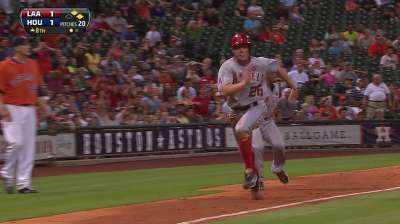 HOUSTON -- The Angels ran into their own personal kryptonite on the mound Friday evening, so they just waited until he was out of the picture.
Astros ace Bud Norris again shut Los Angeles down through seven innings, but the Angels pushed across three runs against the Houston bullpen en route to a 4-2 win at Minute Maid Park.
The win extended the Angels' road winning streak to five games and snapped a four-game losing skid against Houston, which still owns a 7-4 advantage in the season series.
"It's huge, just the fact that we were able to pull off a win facing Bud Norris, who throws well against us," said Hank Conger. "That was a win we really needed, coming off that road trip in Detroit and bringing that momentum here."
The Angels may have broken through the Astros, but Norris remains a riddle the Los Angeles batters just can't solve. With seven innings of one-run ball -- none earned -- Norris improved his ERA to 0.32 against the Halos this season.
"It's like a nightmare you can't shake," manager Mike Scioscia said of facing Norris. "He's thrown as well as anybody we've faced this year, probably better than anybody. He's got the fastball that's sneaky and works his breaking ball in on you. I thought we had better at-bats tonight, but the results were pretty much what we've seen."
But when the Astros turned the ball over to reliever Paul Clemens for the eighth in a 1-1 game, the Angels pounced.
After Hank Conger's double and Erick Aybar's walk to open the eighth inning, J.B. Shuck popped out to center field. The runners tagged and Houston shortstop Ronny Cedeno cut off the play to third, firing an errant throw out of Jose Altuve's reach at second before Peter Bourjos -- pinch-running for Conger -- barely slid in safely at home for the go-ahead run.
Bourjos was out of the lineup for a fourth straight game with a bruised thumb, but his spot duty gave the Angels an advantage not to be relinquished.
"Everything from baserunning to the pitching to the way we played defense combined to win us this game," Scioscia said. "Not many guys would tag up on that fly ball to left-center, but Peter did and Erick did, and you see how big that was."
The Angels added two more runs in the ninth on an Aybar single. It turned out the hit provided more than insurance: they were ultimately the deciding runs.
Los Angeles closer Ernesto Frieri survived a bumpy start to the ninth -- in which the first two batters he faced reach base -- only allowing one run on a sacrifice fly to secure his 20th save in 22 tries.
Houston jumped ahead first, using Jason Castro's massive fourth-inning homer off starter Jerome Williams to take a 1-0 lead. Williams got a no-decision, but pitched 6 1/3 innings while surrendering just five hits.
"I kept the ball down for the most part and just left that one pitch up to Castro," Williams said. "He hit it out, but I had guys rolling over the ball for the most part. Just throw zeroes up as fast as you can, that's what I tried to do."
Starting in the fourth inning, the Angels put the leadoff man on three straight times, but it wouldn't be until the sixth when they broke through, partially thanks to some shoddy Astros' fielding.
Aybar led off with a routine single, but Houston center fielder Brandon Barnes -- who made two spectacular catches in the third -- misplayed the ball, allowing Aybar to take second.
"You're never happy when players make mistakes," said Astros manager Bo Porter. "It's one of those things where they're not made from a lack of effort standpoint and we want to understand mistakes do happen and errors are part of the game."
Mike Trout singled Aybar in with a liner barely over the glove of Altuve, plating only the second run Los Angeles has scored on Norris in 28 innings this season. Trout's 38 hits in June lead the American League, and he has nine hits and eight RBIs in his last eight games.
Two of the Angels' four runs were unearned due to the pair of Houston errors.
In the fourth, Trout walked to lead off the inning, but an Albert Pujols popup and two strikeouts negated Trout's 20th stolen base of the season. Pujols meekly popped out three times and grounded into a double play in the same ballpark where he's hit 26 home runs, a record for visiting players.
Josh Hamilton singled to open the fifth, but a nifty tag-and-toss double play by Altuve stopped the threat cold.
Between Conger's double, Aybar's run production and Pujols' subpar night, Scioscia called the win a "total team job."
"There were guys up and down our lineup that played big," he said. "We hit the ball harder [on Norris] and finally broke through at the end with him gone.
"It's not always going to be the guys in the middle, and Hank came through, Josh beat out a grounder in the ninth, Aybar had some real confidence. All these things are how you win ballgames, and that's what we talk about. They help your team absorb things that don't go your way."
Chris Abshire is an associate reporter for MLB.com. This story was not subject to the approval of Major League Baseball or its clubs.