Norris stellar, but defense the story in Astros' loss
Norris stellar, but defense the story in Astros' loss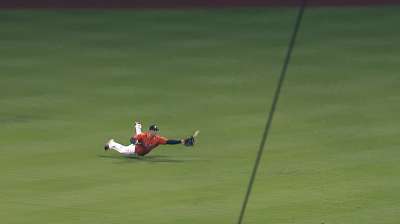 HOUSTON -- Astros manager Bo Porter had no complaints with the effort, and after watching center fielder Brandon Barnes make a pair of terrific catches in the outfield in the third inning and shortstop Ronny Cedeno make a long running catch in the seventh, the exertion was certainly there.
Still, the team that leads the Major Leagues in errors made a couple of big ones Friday night, both of which were committed by players who had thrust themselves onto the defensive highlight reel earlier in the game, and both of them proving to be rather costly.
The Angels pushed across a pair of unearned runs in the sixth and eighth before getting a two-run single by Erick Aybar in the ninth to beat the Astros for only the second time in the last eight meetings between the teams, 4-2, at Minute Maid Park.
"You're never happy when players make mistakes," Porter said. "It's one of those things where they're not made from a lack-of-effort standpoint and we want to understand mistakes do happen and errors are part of the game."
The Astros wasted another strong effort from starting pitcher Bud Norris, who allowed four hits and one unearned run in seven innings to lower his ERA to 0.32 in four starts against the Angels this year. He has limited opponents to three runs or fewer in 11 of his last 13 starts and has quality starts in 10 of his last 12.
"It's like a nightmare you can't shake," manager Mike Scioscia said about facing Norris. "He's thrown as well as anybody we've faced this year, probably better than anybody. He's got the fastball that's sneaky and works his breaking ball in on you. I thought we had better at-bats tonight, but the results were pretty much what we've seen."
Aybar's two-run single off Hector Ambriz with the bases loaded in the ninth gave the Angels a 4-1 lead, and the Astros rallied in the bottom of the inning on a leadoff walk by Carlos Pena and double by J.D. Martinez. Angels closer Ernesto Frieri recovered to strike out Carlos Corporan after a long battle, got Matt Dominguez to hit a sac fly and then struck out pinch-hitter Marc Krauss to end the game.
"We could not get that big hit," said Porter, whose team was 1-for-8 with runners in scoring position. "In the ninth, I felt good with Corporan up there and two guys already in scoring position, and he just wasn't able to get something he could drive. Dominguez hit his ball hard, but right at them. Give those guys credit in the bullpen, because they came in and did a good job."
Jason Castro led off the fourth inning with a long home run to right-center field -- his 11th of the season -- to give the Astros a 1-0 lead. The first of the Astros' two costly errors came in the sixth, when Barnes misplayed a single to center field off the bat of Aybar, allowing him to take second and eventually score on a Mike Trout single to tie the game at 1-1.
Barnes had made a pair of terrific catches earlier in the game, running down a Hank Conger fly ball just as he hit the wall to lead off the third before making a diving catch to rob J.B. Shuck to end the inning. Still, he was lamenting the error.
"It's definitely frustrating," he said. "That's something I don't like, and it could have cost us a big run right there. I think I did everything I needed to do. I got my head down and kept the glove down. It just took a little hop to the side, and I just didn't make the adjustment. It happens."
The winning run scored in the eighth, when with runners at first and second and no outs against reliever Paul Clemens (4-3), Shuck lifted a fly ball to center field. Cedeno cut off the relay to third in an effort to get Aybar advancing to second, but his throw went wide and allowed pinch-runner Peter Bourjos to score the go-ahead run.
"For the most part, it's the speed of the game and the mental part we definitely have to get cleaned up," Porter said. "The physical errors -- that's part of it. Understanding the speed on the bases and where the ball should go, that's more mental than physical, and it will be addressed and will be cleaned up."
As well as Norris pitched, he was helped tremendously by Barnes in center field with his two catches in the third inning.
"The first one I thought was even better, because that was a triple or double and he's on second base, but to end the inning with another diving play, that doesn't happen very often," he said. "The guy can go get the ball. We haven't seen plays like around here since [Gold Glove winner Michael] Bourn. It's a lot of credit to him and the way he plays the game, very hard."
Brian McTaggart is a reporter for MLB.com and writes an MLBlog, Tag's Lines. Follow @brianmctaggart on Twitter. This story was not subject to the approval of Major League Baseball or its clubs.