Nolasco shaky in possible Marlins finale
Nolasco shaky in possible Marlins finale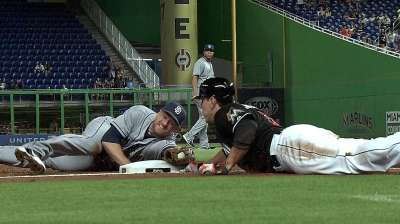 MIAMI -- If Friday night turns out to be Ricky Nolasco's final start with the Marlins, it was not a pretty finale for the organization's all-time wins leader.
In five-plus innings, Nolasco was tagged with a two-run homer by Logan Forsythe, and he allowed six total runs in the Marlins' 9-2 loss to the Padres at Marlins Park.
The subject of trade talks, Nolasco is expected to be moved before the July 31 non-waiver Trade Deadline. Overall he has been solid, as his five earned runs Friday were the second most he surrendered this year. He gave up six May 14 to Cincinnati.
Aware that he is expected to be dealt, Nolasco did not use the speculation as an excuse for his sluggish outing.
"Whether I pitched good or bad tonight, I don't think that's going to dictate what kind of pitcher I am, or who I've been, or what they're going to get," Nolasco said. "It was just a struggle today. I thought I was going to be able to turn the corner there. They just kind of got me. I couldn't put guys away. I just kind of buried the team right there."
One of the teams who have expressed interest in Nolasco, a Southern California native, is the Padres. The Dodgers also had a scout at the game, as did the Orioles.
"You read about it; you see it on the Internet," Nolasco said. "But my job is to focus on what I have to do every fifth day. Just because I didn't get it done today doesn't mean that I'm not focusing or trying everything I can. There is nothing I can do but just continue on trying to make quality pitches."
Padres manager Bud Black said his team put together a solid gameplan on Nolasco, who is at his best when his breaking pitchers are working.
"I don't know Ricky," Black said. "I'm sure there were a lot of scouts here in the stands watching his game just to continue to evaluate him. We were trying to get hits off of Ricky Nolasco."
Asked directly if Nolasco could end up in San Diego, Black added: "You know how rumors are."
"It wasn't our night tonight," Marlins manager Mike Redmond said. "Ricky, he was really grinding out there. He had to throw a lot of pitches out there. I was hoping to get him through the sixth. It just didn't happen.
"He was a little out of whack tonight. They made him throw a lot of pitches. He had trouble finishing guys off early in the game. That was it. They were able to put some crooked numbers up there, and we were not."
As Nolasco labored, Padres right-hander Edinson Volquez settled into a nice groove. He limited the Marlins to two runs while striking out eight in six innings.
The Marlins' winning streak was ended at three, and Miami fell to 0-4 this year to San Diego. In the four games, the Padres have outscored Miami, 20-3.
Now 13-10 in June, the Marlins also had a string of 10 straight games of allowing three or fewer runs ended.
Nolasco, who is 80-72 in his career for the Marlins, had six strikeouts Friday against the Padres, increasing his franchise-record total to 994.
The Padres broke open a one-run game with three runs in the sixth inning. Nolasco was lifted in that frame after allowing four straight hits without recording an out.
Chase Headley singled, and Kyle Blanks' double put runners on second and third. Yasmani Grandal floated an RBI single to left, and Will Venable's run-scoring single to right ended Nolasco's night.
San Diego tacked on its third run of the inning on a play Miami manager Mike Redmond disputed. Pedro Ciriaco tapped a grounder back to the mound, and Ryan Webb went to second in hopes of turning a double play. Adeiny Hechavarria secured the forceout, but the shortstop lost the grip on the ball, and it rolled away. Grandal, on third, raced home, and second baseman Derek Dietrich threw home. On a bang-bang play, home-plate umpire Jerry Meals ruled Grandal safe. Catcher Rob Brantly disputed, and Redmond argued with Meals.
"At first I thought he was out," Redmond said. "I watched the replay, and he was safe. He tagged him high. He got in there."
The run bumped up San Diego's lead to 6-2.
From May 6-8, the Marlins were swept at Petco Park. In the three games, they were shut out twice and outscored 11-1.
In the first inning Friday, the Marlins matched their run total from their May series. They took an early lead on Logan Morrison's two-out triple, which scored Giancarlo Stanton, who singled.
"We weren't really crisp out there tonight," Redmond said. "We didn't really give them our best out there. But we've played pretty well over the last few weeks. You're going to have some bumps in the road. Tonight was one of them."
Joe Frisaro is a reporter for MLB.com. He writes a blog, called The Fish Pond. Follow him on Twitter @JoeFrisaro. This story was not subject to the approval of Major League Baseball or its clubs.