Ackley makes first start in center field
Ackley makes first start in center field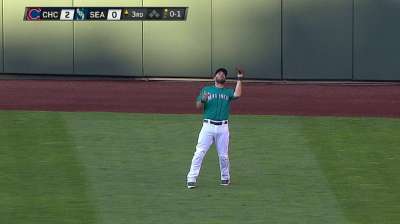 SEATTLE -- Dustin Ackley was demoted to Triple-A Tacoma as a slumping second baseman earlier this year. On Friday, he returned to the Mariners' lineup as a hot-hitting outfielder, batting sixth. While making the conversion from infield to outfield, Ackley hit .365 with the Rainiers and had a 16-game hitting streak.
"I feel night and day better than I did when I first got sent down," Ackley said. "It's been a huge learning experience for me, just going down there and working at it and getting better mentally with at-bats, and things like that."
Ackley has not played very much outfield in his career, just occasionally in college and in the Minors. During that time, he spent most of his time in left field, not center, where he made the start on Friday.
"We'll see how it plays out," manager Eric Wedge said. "I've never seen him out there, I've gotten reports and whatnot, so it's a good opportunity to get him out there and watch him play."
The move to outfield for Ackley was necessitated by the play of rookie Nick Franklin at second base. Since making his Major League debut in late May, Franklin has gotten a hit in 20 of 26 starts, hitting .287 and becoming one of Seattle's most consistent run-producers.
With Franklin looking more and more like the Mariners' second baseman of the future, there was no other choice but to send Ackley to the outfield. In center, he replaces the oft-injured Franklin Gutierrez, and Michael Saunders, who is batting just .211 this season.
Wedge said that Saunders would still have a significant part-time role due to his versatility, and the uncertainty of whether Ackley would be better suited to center or left field.
"It's going to be fun, I'm just excited to be back here with the Mariners first and foremost," Ackley said. "I'm ready to get back going, and continue to get better every day."
Greg Johns is a reporter for MLB.com. Follow him on Twitter @GregJohnsMLB as well as his Mariners Musings blog. Jacob Thorpe is an associate reporter for MLB.com . This story was not subject to the approval of Major League Baseball or its clubs.