Norris or Jaso to spell Vogt behind plate for matinee
Norris or Jaso to spell Vogt behind plate for matinee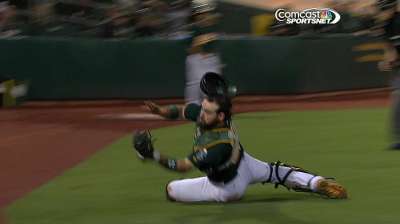 OAKLAND -- Bob Melvin isn't sure who will play catcher in Saturday's matinee against the Cardinals, just that it'll be somebody different.
The A's manager will turn to either John Jaso or Derek Norris in place of recent callup Stephen Vogt, who has started the past three games.
An abrasion on Jaso's left palm and Norris' quiet bat prompted the recent insertion of Vogt into the starting lineup. Norris will most likely get the nod Saturday unless Jaso's health proves satisfactory.
"Not yet to the point where we feel like he can start a game and get four at-bats, but definitely more available to pinch-hit, whether it's tomorrow or Sunday," Melvin said of Jaso before Friday night's game. "I think we'll definitely be out of the woods with him once we get through with this series, but it could be in this series that he gets a start."
Norris is 4-for-39 over his last 13 games and is batting .151 since May 1 after hitting .283 in April. Melvin called Norris "the catcher of the future," but his playing time has decreased during the recent slump. At 24, Norris is the youngest player on Oakland's active roster, which Melvin acknowledged is a difficult age to experience adversity.
"It's tough, but what's a little bit of a double-edged sword too is that you do have some time to work on some things and have a little bit of separation from what has been a tough period for him," Melvin said. "It's no fun. A guy wants to play all of the time, and based on the personnel we have, it's going to be mostly against left-handed pitching.
"It's important that we keep Derek up to speed, too, and that we haven't seen too many left-handed starters. We will see three here before the break, but we've seen predominately righties and it's tough for a younger guy to sit on the bench for a while. We also need to sprinkle him in and get him some at-bats too, so if Jaso doesn't catch tomorrow, Norris will."
Jeff Kirshman is an associate reporter for MLB.com. This story was not subject to the approval of Major League Baseball or its clubs.