Bullpen squanders Wood's 15th quality start
Bullpen squanders Wood's 15th quality start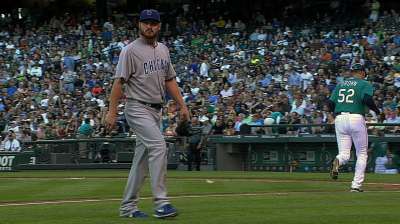 SEATTLE -- Once again, the Cubs wasted a quality outing by Travis Wood.
Alfonso Soriano and Dioner Navarro each hit solo home runs, but the Mariners rallied for two runs in the eighth and Mike Zunino hit a walk-off RBI single with one out in the 10th to post a 5-4 Interleague win over the Cubs Friday night.
"It's a tough one today," said Soriano, who connected in the seventh. "You just try to forget this game today and come back and win tomorrow."
Carlos Marmol is gone, but the Cubs' bullpen continues to struggle.
Chicago led, 4-2, when Jason Bay walked to open the seventh and one out later Wood was pulled for Carlos Villanueva. Zunino singled, and was forced at second on Brad Miller's grounder, allowing Bay to score.
Nick Franklin doubled in the eighth against James Russell, and one out later scored on Kendrys Morales' double to close the margin to 4-3. Raul Ibanez then tripled to left past a diving Brian Bogusevic and Morales scored the tying run. Russell now is 0-for-5 in save opportunities.
"It was all set up for him against the lefties, turning the guys around, and he obviously couldn't get the ball down tonight," Cubs manager Dale Sveum said.
With the game tied at 4 in the 10th, Blake Parker walked both Michael Saunders and Ibanez, and then exited. Shawn Camp entered, and the runners moved up on Bay's sacrifice bunt. Justin Smoak was intentionally walked to load the bases and Zunino lined a 3-2 pitch to center for the game-winning hit.
"I was just looking for something I could get up and elevate to the middle of the field," Zunino said. "[Camp] usually throws a bunch of sliders, so I was looking for one of those early. But he kept coming with the fastball, so with a 3-2 count I knew I had to stay aggressive. ... With the infield playing in, I knew I got enough of it to get it through."
Wood, who seems the best bet to represent the Cubs in the All-Star Game on July 16, struck out six and walked three over 6 1/3 innings, but did not get a decision. He is winless in his last five starts, despite posting a quality start in each and 15 quality starts, overall.
"Travis pitched a heck of a ballgame," Sveum said. "It's about as snakebit as you can get, getting him wins."
"The results were good, but for me, arm-side command was off," Wood said. "I threw a lot of pitches. I ended up with 100 and something [pitches] in only 6 1/3. I walked three guys and fell behind a lot of guys. That walk to lead off the seventh, it just can't happen."
Wood ranks among the Major League leaders in quality starts, and has topped his 2012 season total, when he collected 14 in 26 outings.
"Things are going good in that aspect," Wood said. "I feel I'm more advanced as a pitcher. I'm not just up there throwing. I have a game plan and how I want to attack hitters and the offspeed stuff is better and command is better. The arm side wasn't there, and it made me battle."
With the loss, the Cubs now are 8-4 against the American League this season. This is Chicago's first series against Seattle since June 2010.
Soriano, starting as the designated hitter, singled to lead off the second against Hisashi Iwakuma, and one out later scored on Ryan Sweeney's triple into the right-field corner. Franklin's relay throw was wild, and Sweeney scored on the error.
Bay got one of the three hits off Wood when he launched a leadoff home run in the fifth, hitting a 1-0 pitch out to left-center.
Soriano, who did not start the last two games, led off the seventh with his eighth home run, and now ranks 64th all-time with 380 career blasts. Two outs later, Navarro drove the first pitch to straightaway center for his second home run in as many days. The Cubs now have homered in eight straight games.
Soriano may get more days off as the Cubs look at Bogusevic and Sweeney.
"He's the manager," Soriano said of Sveum. "I like to play, but sometimes, at my age, it's good to rest. I think he wants to do what's best for the team. I'm happy the way he handles the team. He's the manager and he can do what's best for the team."
Being the designated hitter for six games isn't so bad when you're 37.
"I can [be the DH] for one week, two weeks," Soriano said. "I don't know if I can do that for the rest of the season. So far, I enjoy the Interleague that we play."
Wood has not shown any frustration about his lack of wins to match the quality outings.
"We're out there, giving everything we've got," he said. "Things are going to turn around at some point. We'll start winning these games and not falling short."
Carrie Muskat is a reporter for MLB.com. She writes a blog, Muskat Ramblings, and you can follow her on Twitter @CarrieMuskat. This story was not subject to the approval of Major League Baseball or its clubs.